StuCo hosts Super Smash Bros. tournament
Students battle each other to compete for first and second place
Senior Sam Crain won a 38-student Super Smash Bros tournament hosted by StuCo Wednesday, Nov 20. Crain beat out his opponent, senior Charlie Schwartzkopf, in three two-stock rounds. Crain had won against all his opponents in the previous eight rounds. 
"I think I did fine in this tournament," Crain said. "I just really love to play smash." 
Crain competed against 38 opponents but was able to pull out a win. He accredits this to his many years of playing. 
"I played smash win I was around eight, and then I quit but started up a lot more this summer," Crain said.
Through his experience, Crain has gained a lot of knowledge about the game. He describes it as being "based on Nintendo characters where you and your opponent have to know each other off the map." 
"It is just an interesting game with different health and items, without being super competitive," Crain said.
After taking first, Crain was awarded a makeshift first place trophy made up of different candy boxes all taped together into a block shape with a circular emblem a top it all.
StuCo member senior Bennett Doyle was happy with the growth in turn out compared to last year's Mario Kart event. 
"Last year for Mayhem week, Kate Backess came up with the idea of doing a Mario Kart tournament, and we had kind of threw around the idea of doing a Smash Bros. tournament but we thought it might be a little too hard so we just stuck with Mario Kart," Doyle said. "But this year people requested a Smash Bros. tournament, so we said we would put it on." 
A lot went into putting on this tournaments, and Doyle was happy with the greater turn out. 
"[Senior] Wyatt Lindsey and I were the head of this committee in StuCo so we just had to promote it, such as the video on MVTV that I had made," Doyle said. "We had to create a bracket and a google form for people to sign up beforehand, along with creating the trophies for the winners… The turnout compared to last year's event was greater, which lead to more money for StuCo's [fundraising for] Adopt a Family. We had about thirty eight people sign up which is big because last year we only had sixteen people for the Mario Kart tournament," Doyle said. 
Another difference between last year's event is where the money will be going. Student body president senior Annie Bogart explains StuCo's new cause. 
"Last year all the money just went back to Student Council which we used to put on dances and other events," Bogart said. "This year, however, all the money that comes from this event will be going to Adopt a Family to help their cause."
(Visited 128 times, 1 visits today)
About the Writer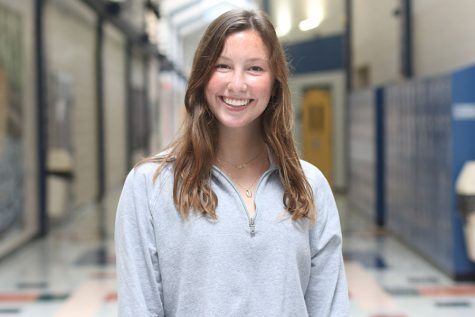 Abby White, JAG editor in chief
This will be Senior Abby White's second year on JAG yearbook staff. She will be taking on the position of editor-in-chief alongside seniors Avery Liby, Taylir Charest, and Sammie Volkamer. Other than yearbook, she is a member of the school basketball and tennis team, Psychology Club and a RFL ELT. Outside of school, Abby loves being around friends and family, watching Netflix and eating constantly.