StuCo hosts successful blood drive
StuCo met its goal of 50 units for the Red Cross on Thursday, March 22
StuCo collected 50 units of blood on Thursday, March 22 during the semiannual blood drive for the American Red Cross, meeting their goal for the event.
StuCo sponsor Erica Crist was ultimately pleased with the outcome, although she believed that StuCo would have collected "slightly more if we hadn't had so many activities going on that day."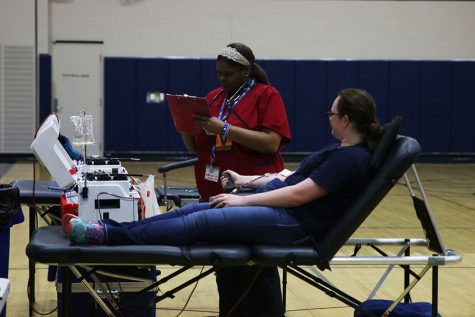 A new red blood cell donation procedure was introduced to the student body, which was enjoyable compared to the standard procedure for third-time donor junior Rachel Kurovski.
The red blood cell donation requires two pints of blood, but uses a machine to return platelets and plasma back to the donor. The experience, which was new to Kurovski, went "really well for my first time."
"I get to get out of class, but I enjoy giving blood because it's for a good cause," Kurovski said. "If I was in the hospital, I would want someone to be able to give to me. And luckily for me, I'm O plus, so I can give to anyone."
As a first-time donor, junior Lindsey Edwards found the experience rewarding.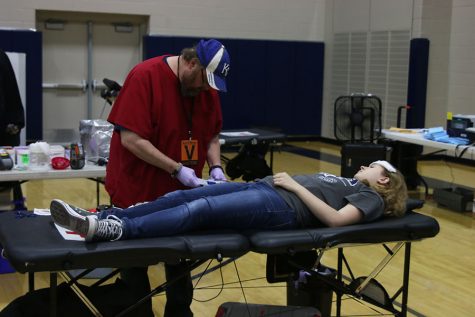 "I had been trying to do it for a few years," Edwards said. "Originally, I had tried to participate in it because I really believe in organ donation and giving what you have to other people … especially in a medical sense."
Although donors have experienced some negative immediate effects from donation, Edwards feels that the process is beneficial in the long term.
"Sure, some people pass out," Edwards said. "But, in the grand scheme of things, it's worth it to put yourself through this so someone else can benefit."
(Visited 110 times, 1 visits today)