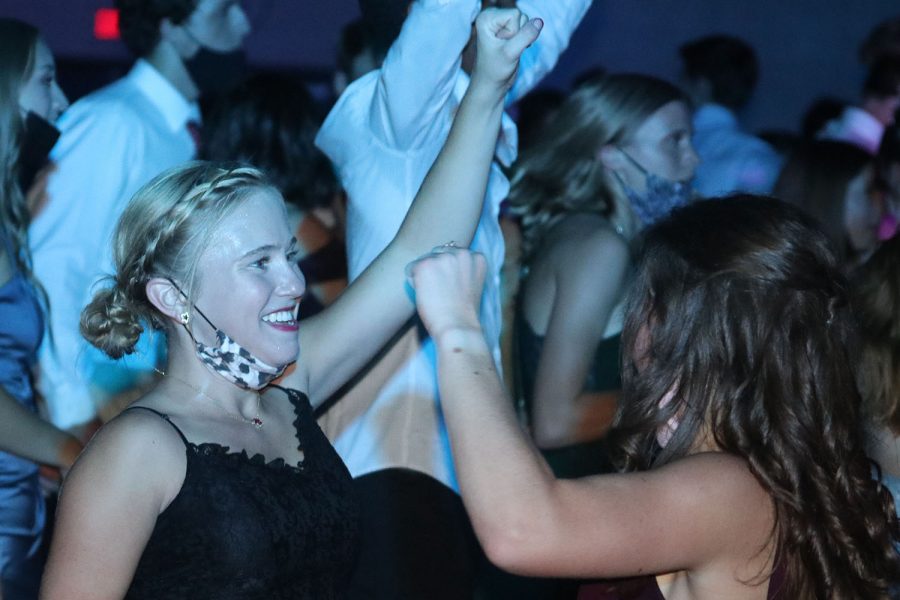 StuCo hosts haunted disco-themed Homecoming dance
The Homecoming dance, hosted Saturday, Sept. 25, brought back a sense of normalcy to the school.
The Homecoming dance was held Saturday Sept. 25, starting at 8:00 p.m. and ending at 11:00 p.m.
The dance was decorated to match the haunted disco theme with cobwebs and streamers. Tables were available for students to take a break before heading back out on the dance floor. 
Reflecting on the dance, senior Noah Reed describes what it feels like to be at the Homecoming dance for the last time.
"It's sad being at my last dance," Reed said. "I only went to three so I'm not super sad but it's interesting."
Sophomore Caroline Alley shares her feelings on being at the dance for the first time. 
"It feels really exciting being at the dance. We didn't get to have ours last year and being here in this atmosphere is just really positive," Alley said. "Everyone will come up to you and say 'You look so great,' and it's just compliments all around." 
Reed explained his thoughts on the haunted disco theme for the dance. 
"If everyone followed the theme it would've been really cool," Reed said. "Those people who did follow the theme look really cool so I'm happy about it.' 
 Alley shared similar thoughts about the theme.
"I was a little skeptical about the theme but it turned out amazing," Alley said. "I didn't know how it was going to play out but it looks absolutely amazing."
(Visited 43 times, 1 visits today)