StuCo holds first pep assembly in nearly two years
The Homecoming pep assembly took place Friday, Sept. 24 and involved many fun activities to get students excited and bring school spirit back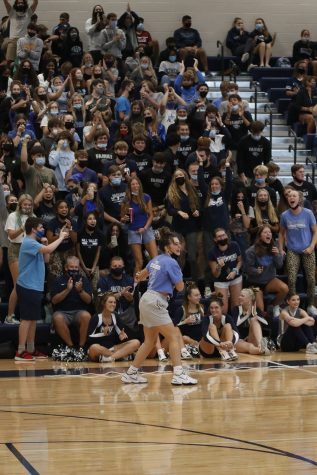 StuCo held their first pep assembly in over two years Friday, Sept. 24. The assembly celebrated this year's homecoming week and recognized all of the athletic teams that won state championships last year
This assembly had a good start as the energy not only matched assemblies of the past, but may have even succeeded them according to senior Bret Weber.
"I think after not having a pep assembly for over a year and a half, students and teachers were ready to go back to supporting one another and have some fun," Weber said. "Our two MCs did an amazing job keeping the crowd hype."
In agreement with Weber, senior Anastasia O'Brien was glad to be back in the stands playing for the band.
"I've missed [pep assemblies]," O'Brien said. "My favorite part was the 'hey hey what do you say' chant when the band got to participate."
However, there are observable differences between previous assemblies and places to improve, according to O'Brien.
"It was definitely harder with most people not knowing how pep assemblies worked," O'Brien said. "Also, in the past we have participated in the actual games of the activities such as musical chairs, and I think it'd be fun to do that again."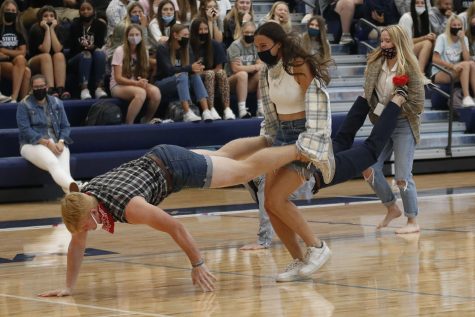 There is definitely a lot to look forward to in regard to upcoming assemblies, according to Weber.
"Honestly, I feel like this pep assembly was one of the best ones we've had so far," Weber said. "If students can keep that same level of energy and excitement for all assemblies, I think they'll all be just as successful." 
(Visited 72 times, 1 visits today)
Mill Valley News intends for this area to be used to foster healthy, thought-provoking discussion. Comments are expected to adhere to our standards and to be respectful and constructive. As such, we do not permit the use of profanity, foul language, personal attacks, or the use of language that might be interpreted as libelous. Comments are reviewed and must be approved by a moderator to ensure that they meet these standards. Mill Valley News does not allow anonymous comments, and Mill Valley News requires a valid email address. The email address will not be displayed but will be used to confirm your comments.