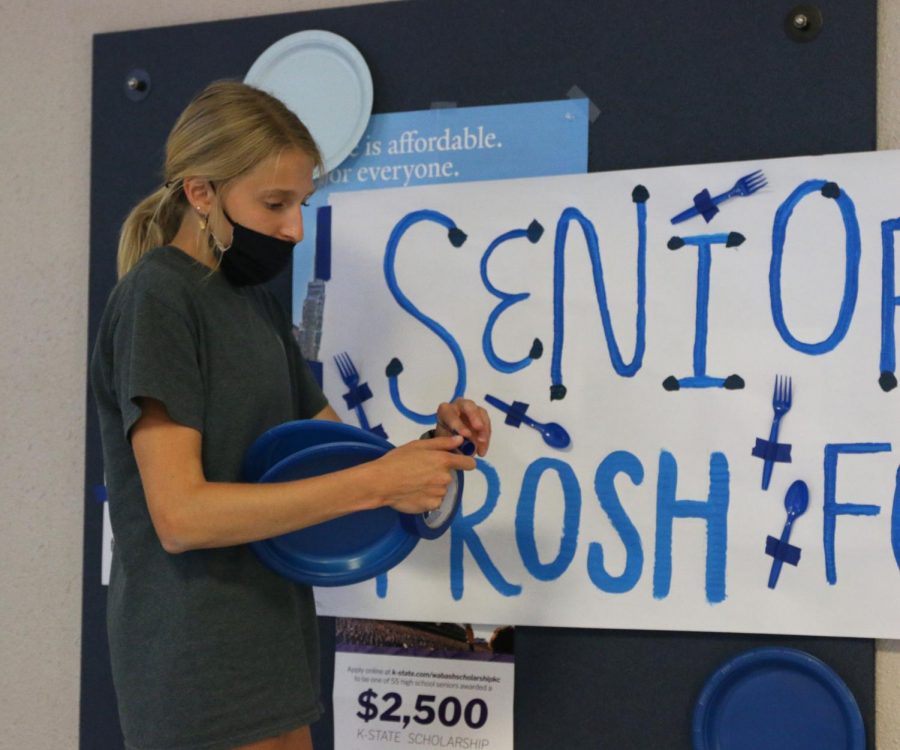 By Sydney Wood
StuCo decorates hallways in preparation for Homecoming week
StuCo decorated each locker bank in its own class color as well as the foyer Sunday, Sept. 19 to kick off Homecoming week
With Homecoming back in full swing this year, StuCo held their annual hallway decorating day Sunday, Sept. 19. Each grade decorated their respective halls in their class color: blue for seniors, red for juniors, green for sophomores and yellow for freshmen. 
This year's Homecoming is back to normal with daily spirit days and a dance. Many students felt excited to decorate their hallway. According to senior Carly Hey, the senior class is the most excited. 
"Seniors definitely have the most spirit," Hey said. "I'm looking forward to Disco Day or Tropical Day the most." 
According to student body secretary senior Lauren Walker, hallway decorating as a senior makes it all the more special. 
"This year's Homecoming week is different because I'm a senior so it makes it more exciting and important because it's our last one," Walker said. "We didn't have a dance last year so it makes it so much more special because we actually get to have a dance this year." 
Hey enjoyed spending her Sunday at school to help decorate the hallways.
"My favorite part of hallway decorating was painting the signs and hanging up the streamers," Hey said. 
Walker hopes that the majority of students will participate in Homecoming week due to the lack of celebration in the past year. 
"I loved Homecoming hallway decorating because you get to work on it with your class so it really unites and gets us excited and ready to go for Homecoming week," Walker said. "I think [there will be a lot of participation] because the sophomores and freshmen both have never had a Homecoming dance and so I think students will get more involved and hopefully come to the dance." 
(Visited 21 times, 1 visits today)