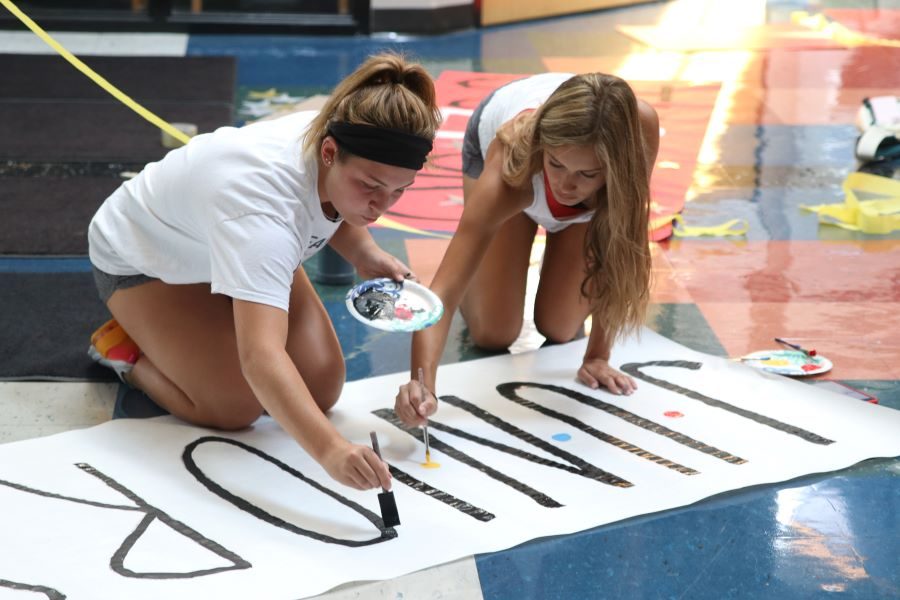 StuCo decorates around the school for Homecoming week
Senior student body president discusses the importance of spirit weeks
JAG: What is the importance of participating in class cup?
Annie Bogart: I think it is important to participate in class cup because it's important to support your school. High school is enjoyable when you take pride in your school. When you're excited for other people and other people are excited for your activity, it creates such a positive environment. I think that all comes with like building relationships through participating in activities like class cup.
J: What is the event to be at this week?
AB: Definitely the homecoming football game. The homecoming parade will also be fun. There's also a lot of non-homecoming related activities this week like volleyball and tennis; they're all awesome.
J: This being your senior year, what has been your favorite memory from Homecoming weeks in the past?
AB: I would definitely have to say walking in the Homecoming parade my sophomore year. It was so much fun. Being a part of StuCo and doing all the little things that bring students so much joy every year is my favorite thing ever.
J: How should students prepare for Homecoming week?
AB: They should come into school with an open mind and ready to participate in all activities. This [week] is one of the most memorable parts of the year, so they should be ready to participate actively. 
J: How is this homecoming different than other homecomings?
AB: The class of 2020 is the most spirited class at Mill Valley has had in awhile. We have got big things planned. Galactic Rodeo is going to hit Mill Valley hard.
J: What are you hoping students will remember from this homecoming?
AB: I think they should remember the uniqueness of this theme and how fun it is. This theme has never been done by another school. [Personally], I think Galactic Rodeo is a little weird, but there is creativity within it. All of the different aspects it has with it is something that will leave a mark on everyone.
(Visited 224 times, 1 visits today)