Sports scholarships help student athletes to figure out where they want to go for college
A sophomore with ten offers shares his experiences of preparing for college due to offers
February 6, 2023
Like many other student athletes, being offered sports scholarships can be a great way for them to prepare for college. Sophomore Jayden Woods has been able to prepare for college by being offered scholarships for football. 
Currently, Woods has received ten offers total, the offers being from Mississippi State University, University of Southern California, Oregon University, Purdue University, Illinois University, University of Iowa, Baylor University, Kansas State University, Iowa State University, Bethel College and the University of Kansas. Woods described his feelings towards his future of playing sports while in college.
"Playing football in college has always been my goal since I was young," Woods said. "I am glad for all of these scholarships because it means that my goal will be completed."
Woods's head football coach Joel Applebee described how the coaching staff helps players.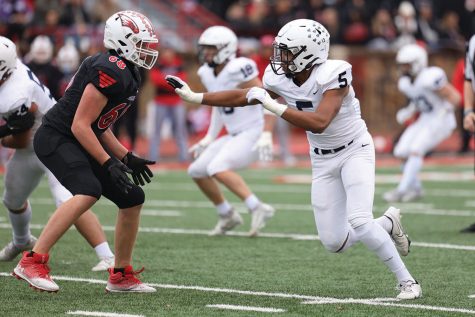 "It's a positive thing to have options for where you want to go in the future," Applebee said. "Ultimately, we work with our players and families to find the best fit for academics, athletics and the community in which they will spend the next four to five years."
Additionally, Woods is thankful for the people who have been helping him navigate all of his offers.
"The people who have been helping me with all the offers I have received have been my coaches and my family," Woods said. "They have helped me by guiding me through the process and the recruitment process and by helping me keep an open mind about where I might want to play in the future."
Additionally, Applebee explained how the coaching staff helps the players plan out their future.
"We have done what we do for all of our athletes, we promote them to schools through social media, emails and word of mouth," Applebee said. "Our staff offers advice of our own personal experiences or of experiences of former players. We help them with ways of narrowing their list of schools by using a variety of decision making skills."
Overall, Woods described how receiving all of these offers has helped him prepare for his future. 
"All of these offers have been helping me prepare for college because without them, I would probably not be thinking about college yet," Woods said. "It has brought the idea of college into my family and my own mind"
(Visited 1 times, 1 visits today)