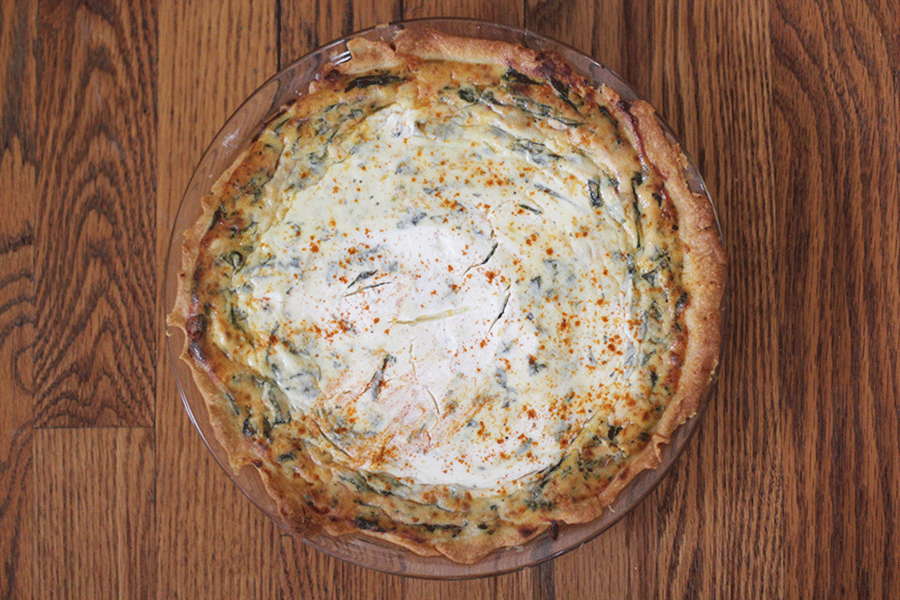 Spinach Pie
From the kitchen of senior Allen Weinert
November 20, 2015
"
One Thanksgiving, my brother wasn't going to come until my mom told him she was making spinach pie, and then he traveled all the way back from college [in Utah.]"
— Senior Allen Weinert
Start to finish: 1 hour 30 minutes
Crust:
1 cup flour
1/3 cup butter
3 tablespoons buttermilk
Cut together flour with butter until uniformly blended. Add buttermilk.
Chill at least one hour in a ball. Roll out into 9" pie crust.
Filling:
1/2 pound chopped spinach
1 onion, diced
Salt and pepper
1/2 tablespoon of basil
1 pound ricotta cheese
3 eggs, beaten
3 tablespoon flour
1/2 cup graded cheese
1 dash nutmeg
1 cup sour cream
Sprinkle of paprika
Heat oven to 375 F.
Saute spinach and onion. Add black pepper, salt and basil. Mix in bowl with ricotta cheese, eggs, flour, cheese and nutmeg.
Spread into unbaked pie shell. Top with sour cream and paprika.
Bake for 40-45 minutes.
(Visited 1 times, 1 visits today)