Special traditions bring new spirit to drumline and band
Traditions in the band drumline have worked to unify the section and provide a unique environment for the rest of the band members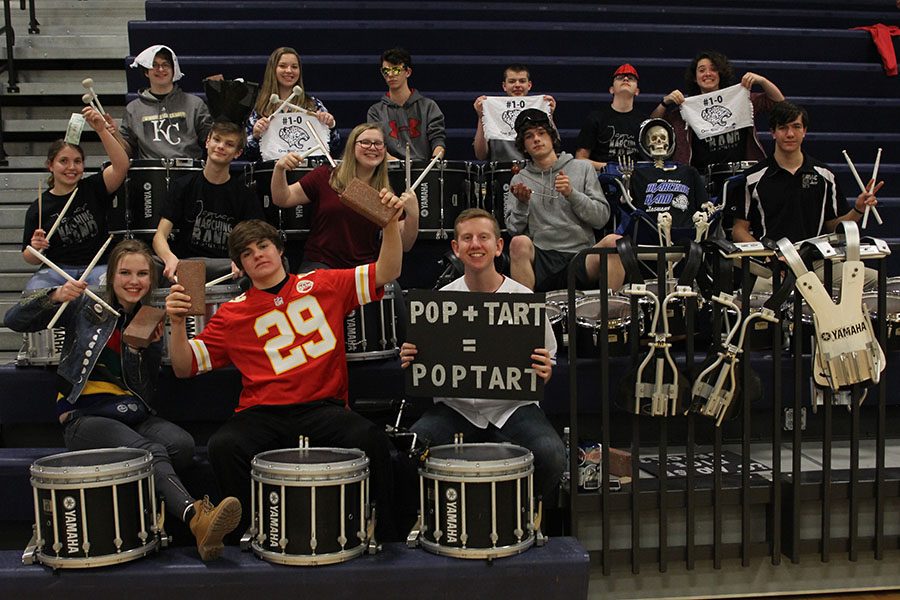 Walk into any basketball game and the sound of rhythmic hits and beats coming from the many drummers sitting amongst the band can be heard. Wait long enough for a break in the music, however, and the sound and sight of attention catching cheers, chants and traditions shared between members of the drumline become apparent.
Since he joined drumline as a freshman, junior Zach Bossert has begun bringing a variety of props to use at basketball games.  After coming up with the idea to bring a brick to a game, Bossert acquired a brick for each member of the drumline to hold up while the opposing team shoots free throws.
"[The bricks are] iconic, clever and good-looking too," said Bossert. "They really get into the mind of the opposing team and make them brick the shot."
According to senior Landon Butler, shortly before the opposing team's member takes a free throw, members of the drumline coordinate a specific action to do with the bricks, including flipping them up or down, forming a large "L", or clinking them together.  
"We channel our inner energies into our building materials, our bricks, then we focus that energy onto an individual of the opposing team," Butler said.  "We use our inner brick energies to cause the other team to clink it off the rim."
Another new addition to the drumline's various traditions is a wooden skeleton named Reggie that a group of students purchased while on a lunch break at the Central States Marching Festival in Manhattan during the fall of 2017.
According to sophomore Aidan Thomas, Reggie became an immediate source of pride for the drumline when band director Deb Steiner gave her nod of approval.
"We brought it over to Steiner and she walked over like she wasn't going to approve it. [But,] she went up, put a [marching] hat on Reggie, and it was official," Thomas said.  "We screamed 'Reggie' and everybody started chanting."
Though drumline members occasionally bring him out to basketball games, Reggie currently sits clothed in a marching hat and band t-shirt in a lawn chair on top of instrument lockers in the band room.  
"He serves as a symbol and mascot and leads us through tough times in the band," Bossert said. "When we feel down, we look up to him, and he's right there."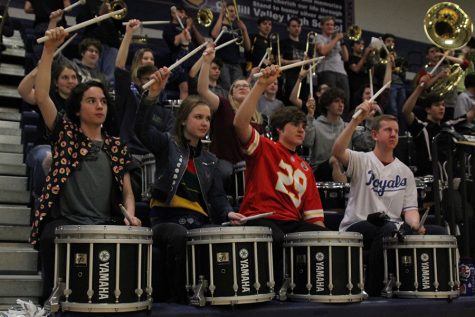 While Bossert said the drumline has become closer after introducing new cheers and antics in the past couple years, one special drumline tradition has been around for more than a decade.
Before a football game, drumline seniors lead a stretching circle followed by a round of jumping jacks where members spell out the word "drumline". Then, the members form a large "mosh pit" where they "run towards the middle, embracing each other with camaraderie", jump up and down and scream.
"We don't want to pull any muscles in our wrist and hand joints. They can get really sore at times gripping the sticks and you just want to prevent that," Bossert said.
According to junior Elizabeth Rigney, however, along with the more practical benefits, the pre-game stretching circle allows drumline members to become more familiar with each other.
"As we are stretching, we go around the circle and say our name because we probably don't know everybody yet," said Rigney.  "We tell something about ourselves — we have a different topic every time".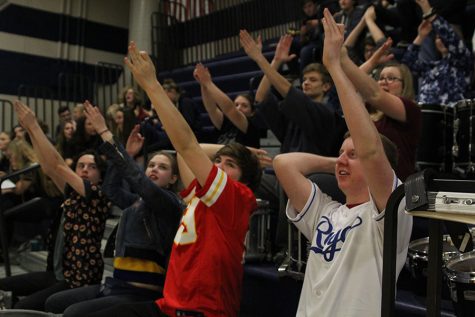 Being well acquainted with each other, according to Rigney, is an integral part of the drumline's success.
"Everything we do, we have to be in sync … if we don't work together, it doesn't work at all," said Rigney. "We really have to spend a lot of time thinking about each other and working together as a group."
Having drumline specific cheers, Bossert believes, has served as a bonding experience for the drumline.
"Since last year when we started doing all these traditions, it connected us more. Before, the freshman and the upperclassmen … didn't intermingle," Bossert said. "Now, since we have these traditions, the freshman feel a part of the family too".
According to Rigney, improving enthusiasm within the drumline has had a large effect on other sections of the band.
"I think we have a tighter connection than a lot of other sections do," Rigney said.  "We can hype each other up easily and as a group we get a lot of energy going. It's just infectious to everyone else."
Ultimately, Bossert has discovered, drumline is about playing music with his "drumline family".
"We just enjoy what we love [to do]; playing music and having fun at the games," Bossert said.
(Visited 40 times, 1 visits today)
About the Contributors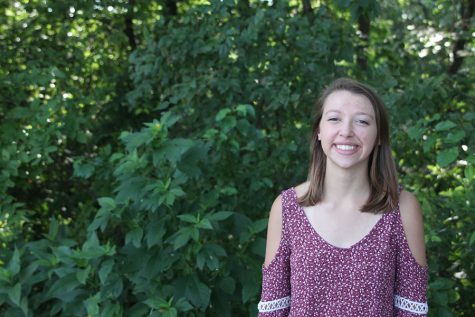 Jordan Robinson, JagWire photographer
This is senior Jordan Robinson's first year on staff as a reporter and photographer.  Outside of journalism, she is a co-captain of the swim team, president of Club 121, a member of NHS, the District Student Advisory Committee, SLT and Relay for Life.  She has participated in band all four years and has been a drum major for two years. Jordan enjoys working as a barista and, as far as she knows, she makes the best latte at Mill Valley.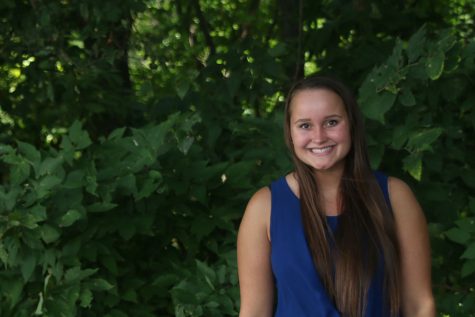 Marah Shulda, Mill Valley News editor-in-chief
This is senior Marah Shulda's third, and final, year on the JagWire staff. This year, she is a Mill Valley News Editor-in-Chief alongside Elizabeth Joseph and Katya Gillig. Outside of newspaper, Marah is involved in band as a drum major for the Mill Valley Marching Jaguars. She also participates in jazz band, SLT, Ambassadors, MV Outreach, MV Outfitters, swim team, is an NHS officer, on the Executive Leadership Team for Relay for Life and the co-president/founder...