Sophomores McKenna Harvey and Simon Stewart cast as lead roles in this year's fall musical "Oklahoma!"
This is the first time underclassmen have been cast as leads since 2010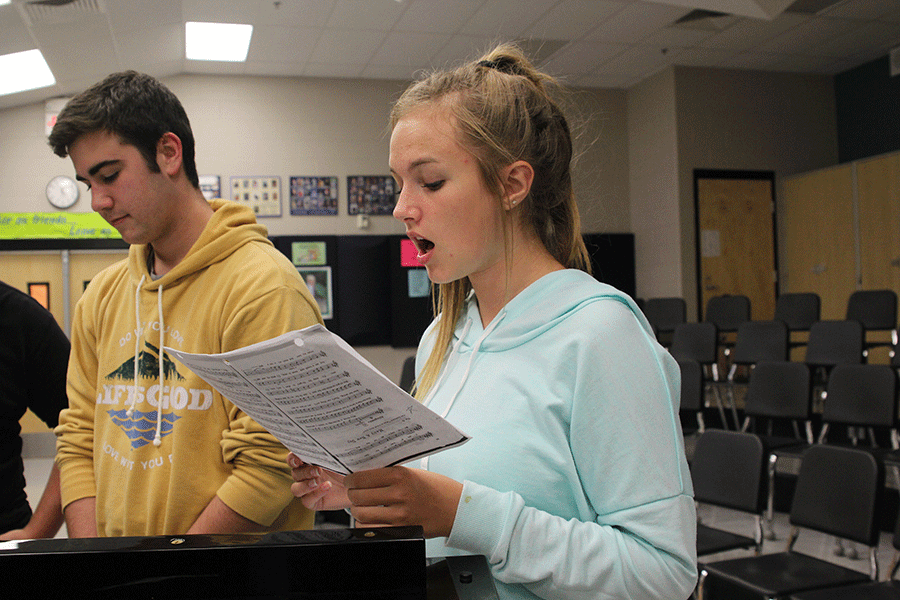 As the cast for the fall musical, "Oklahoma!" rehearses in preparation for their performances, the spotlight is put on sophomores McKenna Harvey and Simon Stewart. The pair find themselves in unique roles for this year's show.
Lead roles are usually awarded to upperclassmen, due to their multiple years of experience. However, this year, Harvey and Stewart were cast as the lead roles in "Oklahoma!," the first time two sophomores were cast as leads since "The Wizard of Oz" in 2010.
The goal for any audition, according to director Jon Copeland, is to push an actor's limits and fit the best part to the right actor. When choosing the leads, he always gives the role to the most talented individual, regardless of the student's age.
"When we're looking at actors for roles, as a teacher in educational theater you want to have two things: you want to have a high quality show so your kids are experiencing high quality performance but you also need to stretch people at certain times in their careers," Copeland said. "If we feel like there's one who's more of a fit for the part, even if there's someone that's older, if the younger person is more suited for some reason [we'll choose them]."
Stewart, cast as Curly McLain, was surprised by the decision based on previous castings.
"It usually doesn't happen. It's usually more based on year and talent [of a more experienced actor]," Stewart said. "If a senior and sophomore were the exact same talent level, the senior would get the part."
Along with Harvey and Stewart, seniors Gabby Saunders and Andy Sloop are also appearing as lead roles for the same characters.
The opportunity to act in front of his fellow students motivates Stewart as he prepares for the show.
"I was pretty excited. I thought I was going to get a smaller role," Stewart said. "But I'm happy about it … I'm looking forward to performing in front of my peers."
Having a lead role involves memorizing more lines and practicing both during rehearsal and at home. Although Harvey, cast as Laurey Williams, has previously been in about 15 shows at Christian Youth Theater and Measurement Productions, she finds more difficulties in the tasks she has to face this year than in previous shows.
"It's more challenging because you have more responsibilities and there's more weight on you," Harvey said. "[This role] is just a way that I can prove to myself that I can do this."
As Harvey rehearses for the role, she hopes to prove that casting based on talent instead of solely on experience will help to give underclassman a better chance at securing lead roles.      
"I think that it's just going to show people that it's OK, even though the seniors and upperclassmen are so talented, to give underclassmen a chance," Harvey said.
Especially with the young leads and newcomers to the stage every year, Copeland has faith that Harvey and Stewart can succeed.
"We always have a mixture of kids that have done lots of shows and kids that it's new to them. There's always kids that have not even had drama class that just try out," Copeland said. "So just because they're sophomores doesn't mean they're not totally ready to understand the terms we use and hit the ground running."
(Visited 66 times, 1 visits today)
About the Contributors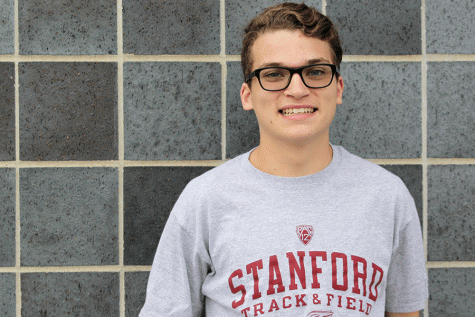 Braden Shaw, JagWire editor-in-chief
This is senior Braden Shaw's third year on the JagWire staff and his first year as editor-in-chief. Outside of newspaper, Braden is involved in cross country, band, track & field, NHS and his youth group at his church. He also loves movies and hip-hop, and is a huge sports fan.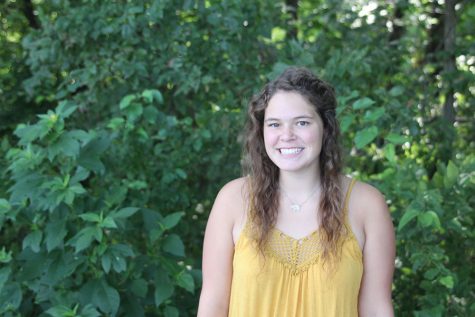 Victoria Wright, JagWire editor-in-chief
This is senior Victoria Wright's third year on the JagWire staff and her first as editor-in-chief. She is also a member of National Honors Society, Ambassadors, girls swim team and is a girls tennis manager. Wright likes to spend her time hanging out with her brothers, friends and her main man, God. She also enjoys traveling and watching sports. Victoria is excited to see what the year brings and for everyone to see the newspaper this year!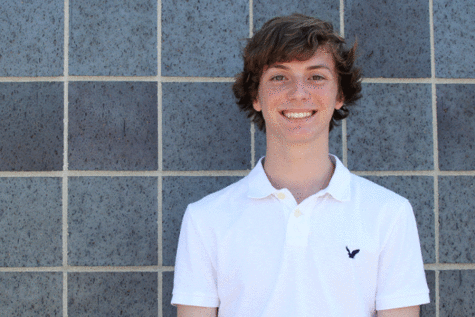 Nick Precht, JagWire photographer
Senior Nick Precht is a photographer on the JagWire and Mill Valley News staff this year. He is involved in Jag Chorale and Jaguar Singers and is also a part of the drama department. Though this is only his first year on staff, he's still excited to be a part of the team, make the most of this year and develop new friendships with the rest of the staff.