Sophomore Wendy Chen grows closer to family through work at family restaurant
Working at China King has been a part of Chen's life since she was five years old
December 7, 2015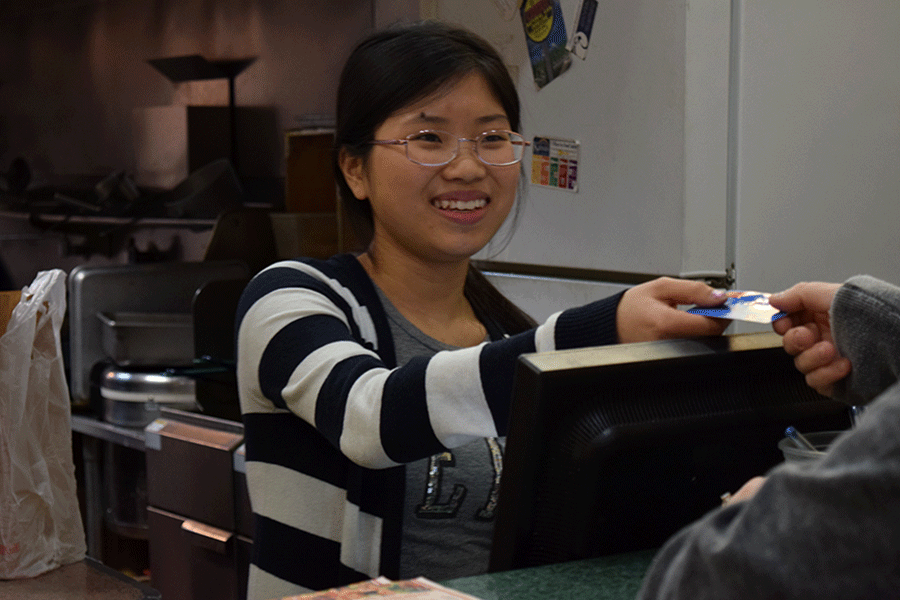 After walking there from school, sophomore Wendy Chen enters through the doors of China King, a Chinese restaurant her family owns. Instead of taking a seat at one of the tables, however, Chen sets down her backpack and makes her way behind the counter, taking her place behind the register.
Chen's parents opened China King in 2003, and Chen has been helping out there since she was five years old.
"When I was younger, I would help out with little things, but now I am a cashier and I take orders," Chen said. "I like that it helps me manage my time better."
Upon her arrival to China King from school around 3:30 p.m., Chen works with her family until 7:30 p.m. Chen feels as if her family has ultimately grown together by working alongside each other so frequently.
"I think it's made us closer and our relationships stronger because we learned to get over small [issues]," Chen said. "Sometimes it's frustrating, but mostly we get along and it's easier to talk to them."
Chen's mother, Tracy Huang, feels as if Chen's experience at the family restaurant gives her a new outlook on family affairs.
"She can know how we can make money," Huang said. "It's not really easy, it's not from a tree. We need to work hard and the money [will] come."
Although she enjoys the familiarity of the environment at the restaurant, Chen said her family occasionally gets into disagreements.
"The customers are pretty specific about what they want, and sometimes we get a little frustrated as a family," Chen said. "It's kind of hard to work together sometimes."
"
I would much rather work for my family than find a job anywhere else."
— sophomore Wendy Chen
It has become easier to adequately accommodate her homework into her work schedule, according to Chen, and she finds herself to be more on task when working on homework at the restaurant.
"When I'm not taking customers, I'm doing my homework, so [that] actually gives me more time to do my homework while I'm working," Chen said. "At home, I would just be watching TV or streaming videos instead because I have more freedom to do whatever I want."
Despite the option of finding other jobs, Chen enjoys working at China King under the instruction of her own family.
"I don't think I'm going to work anywhere else before my senior year ends because I need to help out my family and that just takes all the time I have available to work," Chen said. "I would much rather work for my family than find a job anywhere else."
Huang feels as if Chen has developed through her experience working at the restaurant.
"She's a really good girl and smart girl," Huang said. "She was really shy [before working] and couldn't talk to anybody. Now, she is very bright and not really shy."
According to Chen, her involvement working at her family's restaurant has shaped her into the person she is today.
"I've been more accepting of others because I see other customers and am exposed to more people," Chen said. "This job has helped me manage better and multitask; also, it's helped me communicate with others."
(Visited 24 times, 1 visits today)