Sophomore Kara Poje finds enjoyment in weekly 'Fun Makeup Fridays'
Sophomore Kara Poje began this ritual at the beginning of the school year to build her portfolio and have fun with makeup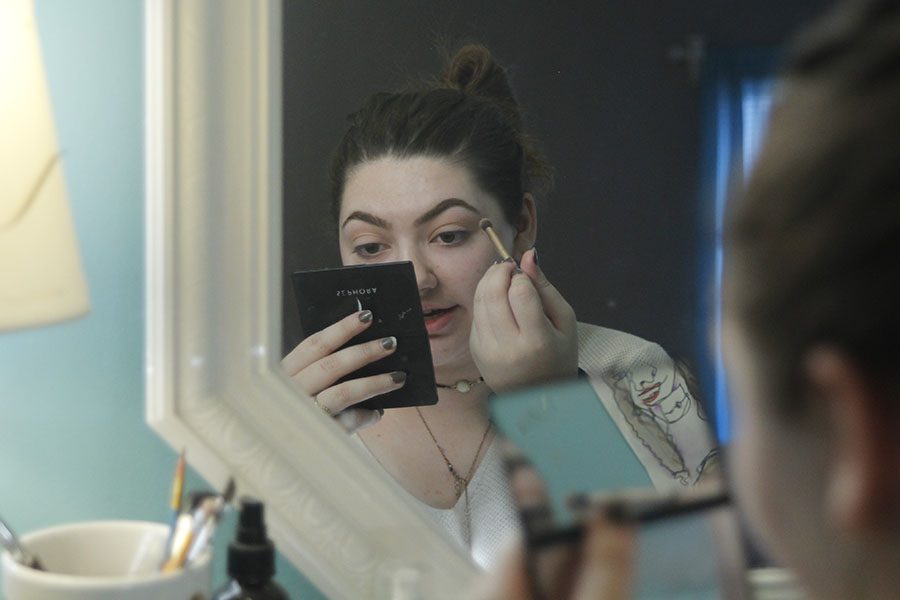 Every Friday morning before the school day begins, sophomore Kara Poje sits in front of her mirror surrounded by makeup palettes and brushes. On normal days she does this as well, but on Fridays it's special, because these are the days she experiments with new makeup techniques, the more outlandish the better.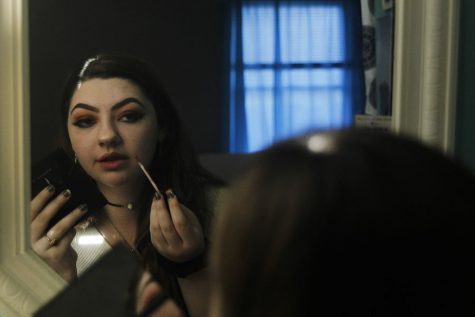 She calls these days "Fun Makeup Fridays," a term coined by sophomore Camryn Vitt. To Poje, these days could mean anything from wearing electric green eyeliner to gluing rhinestones on her brow bone.  
Despite Poje's current mastery of makeup design, she only began to explore her talent the summer between her freshman and sophomore year.
"I got more into art and my sister always did makeup. I started doing [makeup] one day and started learning more about it and looking at more pictures on Pinterest and things," Poje said. "I just love the makeup looks, [and] I think this is a good way of expressing art and yourself."
According to Poje, she wanted to wear her makeup looks to school, but not everyday. This is where the idea of Fun Makeup Fridays came from.
"I was like 'I want to wear this to school but I don't want to do it everyday' and [Vitt] was like 'you should maybe just do it once a week," Poje said. "I was like 'yeah I'll probably just do it every Friday.' I guess that's how it came to be a thing."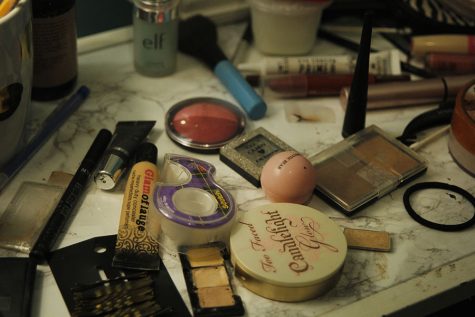 Vitt enjoys Poje's Fun Makeup Fridays because of the way Poje is able to express herself through them.
I think [the Fun Makeup Fridays] are amazing because [Poje] is just so talented and that's what she's passionate about," Vitt said. "It's really cool to see her come to school and have something that's she's comfortable in and not afraid to be herself."
Vitt also believes Poje's unique makeup has had a positive effect on the students around her.
"I think she's actually made kids almost comfortable [with] being able to be themselves. They see her with these bright colors on her face and sure she probably gets some judgement from some people, but she's happy while doing it, and it's really cool seeing someone being happy and bright and fun."
Looking towards the future, Poje wants to turn her passion into a career, and for this reason, believes she will continue her Fun Makeup Fridays indefinitely.
"I'll probably do [Fun Makeup Fridays] all year and it's also helping me build a good portfolio for my future career," Poje said. "I want to become either a makeup artist, maybe create my own brand, or maybe just be an influencer."
(Visited 42 times, 1 visits today)
About the Contributors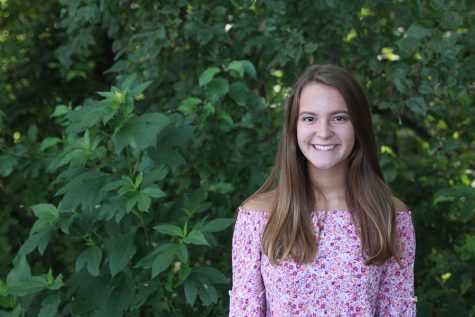 Abby Layton, JagWire A&E editor
This is junior Abby Layton's second year on staff. She will be the A&E editor for the JagWire newspaper this year. She is part of the Catty Shack sales team and participates in the Mill Valley DECA chapter. Outside of school she enjoys hanging out with friends, reading, and finding new sushi restaurants to eat good fried rice.

Claire Boone, JagWire managing editor
This is senior Claire Boone's third and final year on the JagWire staff. This year she became the JagWire's managing editor. Outside of journalism, Claire is part of the track and field team, and will be starting her final season this year. When it comes to activities outside of school, she spends lots of her time at church or at work as a waitress, where she loves to see the bright faces of her customers early in the morning. She also is extremely...