Sophomore enjoys being only boy on color guard
Sophomore Knowle Julander finds color guard to be fun, despite being the only boy on this year's team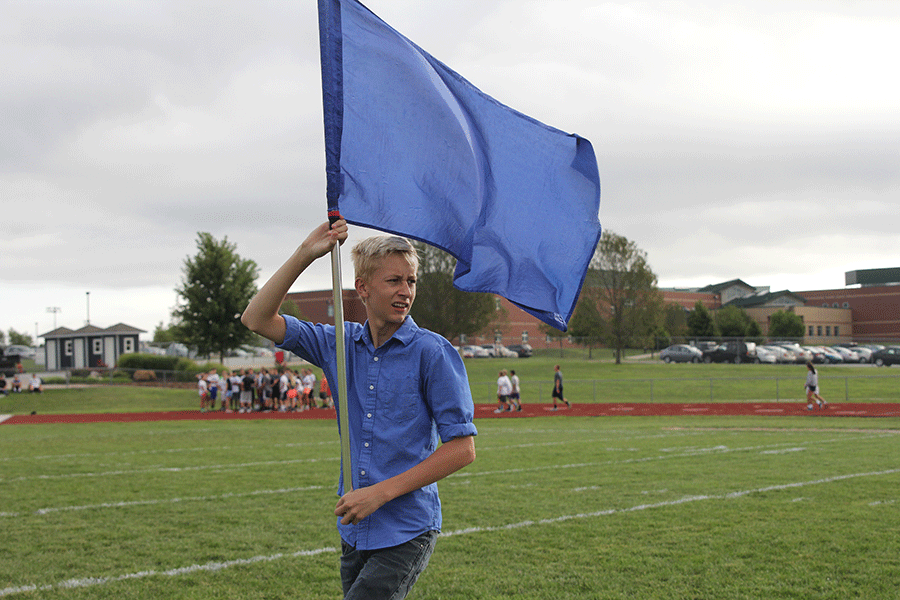 Even though sophomore Knowle Julander is in band, he won't be playing an instrument during the fall. Instead, Julander chose to be a part of color guard, a group of band students who add to the visual side of marching performances through flag spinning. Julander is the only boy on the color guard team this year.
"I wanted to try something different," Julander said. "It's genuinely … fun."
For Julander, being a boy on color guard hasn't created any noticeable differences.
"They treat me the same," Julander said. "We're all like one big family."
Working with students on color guard has become one of Julander's favorite parts of the activity.
"They're nice and helpful," Julander said. "Everybody's great."
One of those students, senior Laci Moore, enjoys having Julander on color guard, despite his gender.
"I think it's different but it brings a new light to the things we can do in color guard," Moore said. "It's exciting."
While color guard may be fun for Julander, he still has mixed feelings about their first performance at the football game versus St. Thomas Aquinas on Friday, Sept. 5.
"I'm nervous but I know it'll go [well]," Julander said.
Overall, color guard has been a very gratifying experience for Julander.
"[I like] everything. The people, the fun," Julander said. "It's just all over fun and excitement and nice, friendly people."
(Visited 52 times, 1 visits today)