Sophomore Drew Morgan shares his personal story
Morgan sheds light on how racism and stereotypes have impacted his life
February 19, 2020
An elderly, white man approached the baseball field concession stand. He stopped to stare at sophomore Drew Morgan who was busy preparing a large order of Icees. After finishing his task, Morgan greeted the man and apologized for the wait.
"
Back in my time, your people wouldn't even be allowed to be in this certain section."
"You're lucky your people are allowed to work here," the man said.
Ignoring the comment, Morgan asked again how he could help the man.
"Back in my time, your people wouldn't even be allowed to be in this certain section," the man said.
Not wanting to lose his job, Morgan replied that he couldn't help the man if that's all he was going to say. Without another word, the man walked away.
This blatant racism was not the first time Morgan's African American ancestry played a role in how people treat him. Adopted into a white family, the color of his skin began shaping his world before he even understood what race was.
"I remember when I was growing up … a lot of people would stop and stare at my family in public, and it was something that I didn't understand at the time," Morgan said. "[I thought], 'Why are they staring at me?' I was just staring at my parents."
While Morgan recollects the discomfort that dominated these moments, he recognizes that it's natural for people to do a double-take when they notice his family's unique dynamic.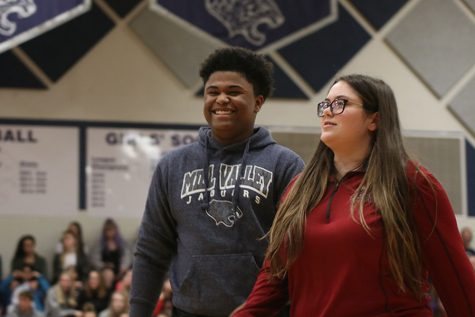 Race grew to be a larger aspect of his identity upon entering grade school and not always in a positive way; Morgan often felt disconnected from his white peers who didn't share the same race-related experiences that had become increasingly prevalent. 
He feels these problems have been partially alleviated since he started high school. The increased diversity allowed him to find students who are "really vocal about how they feel about being black, how they feel about how they're treated."
However, Morgan is no stranger to the notorious history class situation that countless black students experience throughout their education: the room full of non-black students that inevitably turn toward the single black student when it's time to discuss the Civil War or the civil rights movement. While Morgan doesn't blame others for this reaction, he sheds light on why this kind of occurrence creates an unpleasant environment.
"A lot of people will turn around and look at me or turn toward me," Morgan said. "It's extremely uncomfortable for me. It's just a lot of eyes on you for something that you can't really control."
Morgan also hears malicious comments made at school based on racial stereotypes stereotypes tied to black people.
"There's a good amount of people at Mill Valley who, whether it's a joke or not, say 'black community: there's crime, criminals, a lot of just violence.' I think that's what a lot of people like to push as a stereotype that we're a violent community of people," Morgan said. "I've also seen some people say we're ghetto, that we're not educated well enough, [and] that we can't speak proper English."
A stereotype that Morgan is especially bothered by is that black people are inherently more violent than white people. Morgan thinks this ill-founded stereotype is exacerbated when people only look at shallow statistics and don't address underlying causes behind those issues.
"[The stereotype] that all black people are ghetto… kind of irks me a little bit, because there are a lot of black people who don't act ghetto. No one wants to act ghetto; it's the situation that they're in," Morgan said. "A lot of people don't grow up in great places … in order to cope with that, they get into violence. And it's not the right thing to do, but it's the only thing they know."
While high school was a step up in terms of racial diversity within the student population, which allowed him to interact with peers who he can speak to about these problems, this doesn't mean it's always easy. Going to a school with a primarily white staff has limited the number of adults in Morgan's life that are fully capable of understanding these race-related aspects of his life.
 "It's a little bit hard because when you're trying to explain a situation that you're going through, or something that's happened to you in school, or maybe someone's saying something," Morgan said. "It's hard for them to put themselves in your shoes, and vice versa."
(Visited 1 times, 1 visits today)