Sky Zone indoor trampoline park opens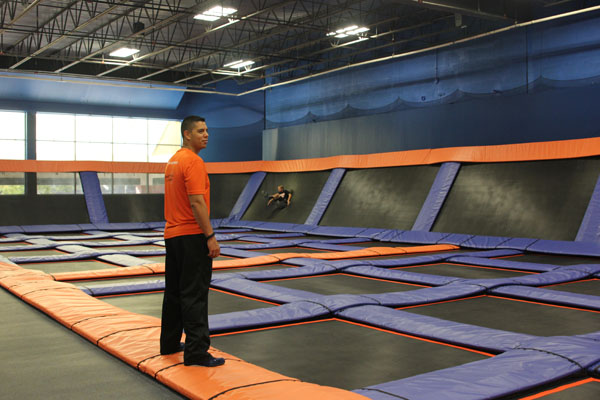 The squeaks of springs and the thud of bodies hitting trampolines, nearly drowns out the music playing at Sky Zone, the newly- opened indoor trampoline park at 6495 Quivira Road
After opening on Friday, Sept. 26, the this became the first Sky Zone location to open nearby, the next closest being in St. Louis, Mo.
Despite being delayed, the Shawnee Sky Zone's grand opening was a success becoming the 3rd largest location opening in Sky Zone's history. But assistant general manager Dave Hobbs hopes that Sky Zone's audience continues to expand.
"I still want to see more people come and see the facility," Hobbs said.
Sky Zone's facility offers many different trampoline experiences, these include bouncing on the 48 trampoline tiles covering both the floor and walls of the facility's main court. They also have a section to jump off a trampoline while trying to dunk a basketball into one of three different height hoops. Another area includes a foam pit to dive into. Finally there are also two trampoline dodgeball courts.
Junior Aaron Fox's said that his favorite activity at Sky Zone is dodge ball.
"Dodgeball [is my favorite] because it is fun to throw balls, do a flip and dodge at the same time," Fox said.
Before guests are able to partake in anything in the facility they must first sign a waiver, or if they are under 18, have a parent or legal sign it for them. The waiver can be printed out or filled in electronically at http://kansascity.skyzonesports.com
Sky Zone also hosts birthday parties, corporate events and reserved group events. In addition on Saturday nights they have SkyJam, where from 10 p.m. to 12 a.m. those 16 and older can pay $18 to jump for two hours, in addition to receiving two slices of pizza and one soft drink.
Sky Zone's normal hours are: Tuesday to Thursday, 3 p.m.to 9 p.m. Friday, 12 p.m. to 9 p.m., Saturday, their hours are 10 a.m. to 10 p.m. and on Sunday they are open from 10 a.m. to 8 p.m.
Junior Cole Hess, who works as a cashier at Sky Zone, recommends it because he feels it offers more than just entertainment.
"It's a good workout and it's fun. We've got more than just trampolines," Cole said.
If heading out to Sky Zone, Hobbs wants "everyone to have fun and fly safe."
(Visited 9 times, 1 visits today)
About the Writer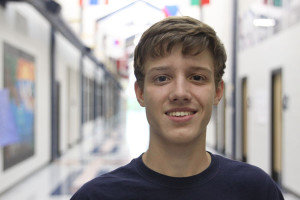 Connor Oswald, reporter,photographer
Junior Connor Oswald is a first-year staff member on the JagWire. He enjoys reading, writing, tennis and scuba-diving. His favorite quote is by Ronald Reagan, "Trust, but verify."