Silver Stars named first-ever KSHSAA Division II dance state champions
The team clinched first place in Game Day at the KSHSAA Spirit Showcase for the first time in state and Mill Valley history
The Silver Stars dance team won their first ever 5A state title at the virtual KSHSAA Spirit Showcase dance competition on Saturday, Nov. 21. Competing in Division II, the team's Game Day performance, which consisted of a dance routine to the school's fight song, a sideline chant, and a pom halftime performance, scored a 91.6 out of 100 points declaring the Silver Stars Kansas state champions.
Making program history during the team's unusual season prompted enthusiastic and emotional responses from every dancer, including Silver Stars member freshman Trinity Baker.
"I was very nervous. I was shaking when we were waiting for results because I get very nervous for stuff like this," Baker said. "When we found out that we had won I started jumping. I was very excited because this is a very big deal for the seniors and for us five freshmen with it being our first year [competing] at state."
Similar to Baker, Silver Stars member junior Anna Brazil was shocked when she learned that the Silver Stars were state champions during the virtual awards ceremony.
"
When we found out we got first we turned off our camera and jumped up to give each other hugs. It started to get emotional from there
— junior Anna Brazil
"Right when they announced second place all of us looked at each other super surprised and giddy but our camera was on for Zoom so we couldn't get all excited just yet," Brazil said. "When we found out we got first we turned off our camera and jumped up to give each other hugs. It started to get emotional from there."
Due to the restrictions of COVID-19, the team danced in their white-and-navy sequined uniforms for a pre-recording of three videos for their Game Day routine. The videos were recorded in the new gym in front of a small audience to send in to the state showcase judges. This was much different from previous competition seasons where the team would perform multiple routines once during  a competition for a panel of judges in-person, according to junior Hailey Mahoney. The team had three minutes maximum to perform their fight song, sideline, and halftime routines.
Preparing for virtual state proved to be a gargantuan task for all members of the team with Monday morning practices going from 6:30 a.m. to 7:30 a.m. and Tuesday evening practices lasting two and a half hours. Normally, Monday morning practices would go until the end of first block, however due to the school's hybrid learning model, they had to be cut short prompting longer Tuesday night rehearsals, according to assistant coach Nicole Porter.
"We started preparing for the state competition in October. We have three coaches that help with cleaning and making changes.We had [junior] Evan Harris, a member of MVTV, assist in the filming of our submission," Porter said "We did have a few takes, but the girls were pretty prepared and spot on since we originally planned for being in person."
Brazil and Mahoney note how performing in a mask with barely an audience made it difficult for the team to "project" and dance enthusiastically for their video submission.
"We weren't allowed to have anyone come in and watch and our coaches also couldn't cheer for us and that's one big factor that really helps you perform Whenever someone's there cheering for you, it gives you adrenaline and it helps you keep pushing," Mahoney said. "We still had to act like we were performing for a big audience even though no one was there."
Despite the less than ideal circumstances that came with the team's first state experience, Porter is beyond pleased with the girls' endless grit and determination during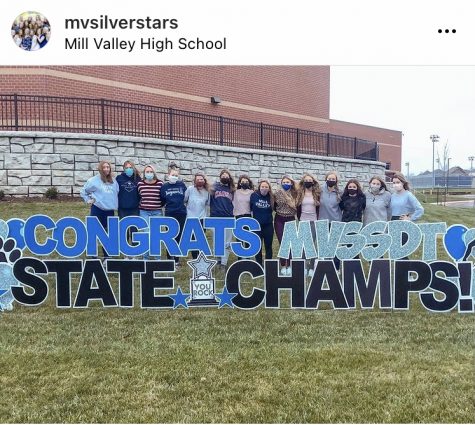 the weeks leading up to Nov. 21.
"I am so proud of the girls – all their hard work and time they had put in was worth it," Porter said. "Katie, our head coach, took over the program nine seasons ago and it has always been a goal to have a state dance competition. 
Baker is thankful for the excitement and success that has filled her first year as a Silver Star and looks positively toward her future on the team.
"This year has been really fun because since I'm a freshman, I'm still learning how to cheer to fans and getting used to performing in front of a big audience," Baker said. "Competing in Game Day this season has really helped me open up my presence while I'm dancing."
Moreover, Porter is grateful for the efforts of multiple dance coaches across the state who came together to "stress and explain how important this opportunity is for dancers."
"Other states, such as Colorado, Tennessee, Indiana, Missouri – all have huge state dance competitions. It is something students, teachers, dancers, and coaches all look forward to every year and it is such an honor to be at the top," Porter said. "I hope Kansas begins to see how hard our dancers work and how much of an accomplishment this is for your school and dance program. To be the first state champions in dance for Kansas 5A is a memory we will have forever."
Division II Results
Mill Valley High School – first place – 91.6 
Blue Valley Southwest – second place – 86.425 
Valley Center High School – third place – 83.525
Seaman High School – fourth place – 83.35
Piper High School – fifth place – 83.025
Topeka West High School – sixth place – 78.275
(Visited 476 times, 1 visits today)