Shane Dawson's new series blows up the makeup community
"The Beautiful World of Jeffree Star" gives insight into the Youtube and makeup community
After a two month break from posting on YouTube, YouTuber Shane Dawson posted the first video of a long-anticipated series Tuesday, Oct. 1. Collaborating with YouTuber and entrepreneur Jeffree Star, Dawson and his cameraman Andrew Siwicki take viewers into the life of a beauty guru. Immediately, the iconic duo shot to the top of the trending page on Youtube with "The Beautiful World of Jeffree Star." Since then, Dawson has released three more parts of the series.
Dawson and Star originally threw out the idea of Dawson creating makeup as a joke in another series collaboration they did together, but then the idea started to come to life, and they started to film the whole process. They show everything that goes into making a makeup collection.
No one has ever given so much insight on what goes on behind closed doors and what would normally happen off camera. Viewers are getting a firsthand look inside the beauty industry. They reveal prices of what Star has made in the past and estimates of what Dawson is going to be making. They really show the business side of their journey but also show the creative side. They show the team coming up with colors, names, palette packaging and more.
I felt like I was watching a movie, rather than a YouTube video that someone might have put together in a couple of days. This makes sense because they've been filming this process for over six months. This series is the definition of what every major company would be too scared to show. They've had so much success with this series already because no one has ever seen anything like it before.
From what the videos have shown so far, Dawson will be dropping a full eyeshadow palette, a smaller eyeshadow palette, liquid lipsticks and lip gloss. All of the names of each shade or product relate to Dawson in a personal way. With shade names like "IlluminaTEA" and "Tanacon," this palette is going to be something special to him and distinctive in the makeup community. The release date for the palette is Friday, Nov. 1.
(Visited 540 times, 2 visits today)
About the Contributor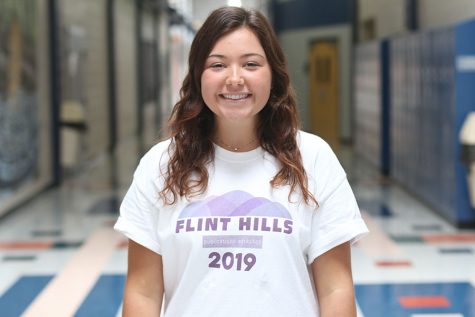 Taylir Charest, JAG editor in chief
This is senior Taylir Charest's third year on the JAG yearbook staff. This year she will be taking on the position of editor-in-chief. Other than yearbook, Taylir is a member of the softball team and Spanish NHS. Outside of school, she enjoys shopping, traveling, concerts and K-State football games.