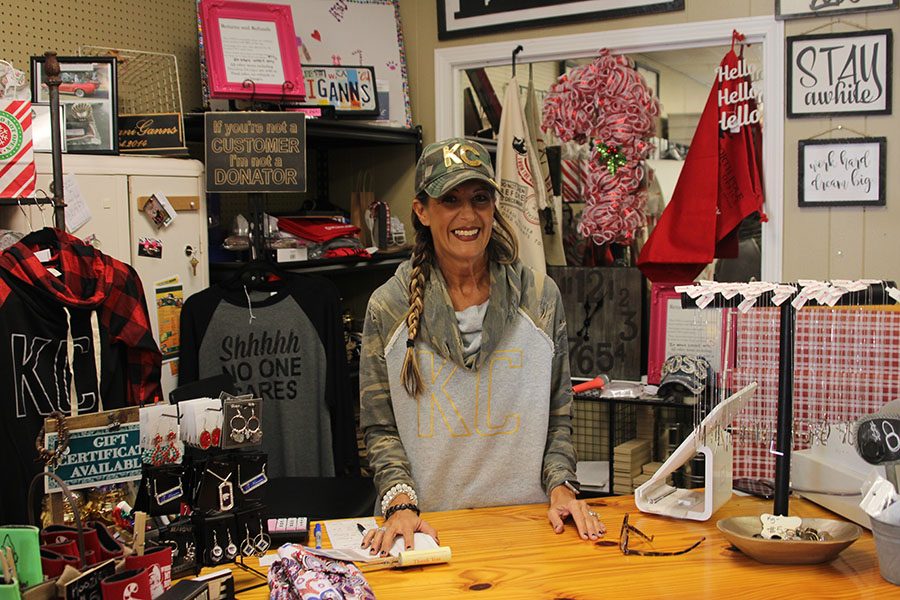 ShananiGanns combines unique products with a vibrant retail environment
The small town boutique offers unforgettable decor, trendy clothing and a heartwarming backstory
Upbeat holiday music plays in the background as customers search through a rack of new festive t-shirts. The smile of owner Kristina Gann-Albright welcomes each local as they enter the store. Since ShananiGanns opened in October of 2014, located at 11006 Johnson Dr., the citizens of Shawnee have been able to receive a more enjoyable and personalized shopping experience.
One quality of the store that makes it extraordinary is the unusual name. Gann-Albright and her friend of 40 years, Nikki Shanahan created the business together and decided that the name of the boutique should be a combination of their two last names. Gann-Albright's friend passed away last August due to breast cancer, but Gann-Albright has been able to continue running the business successfully.
"She is the 'Shanani,' and I am the 'Ganns' in ShananiGanns," Gann-Albright said. "I'm carrying on the tradition and keeping [the boutique] going for her."
Gann-Albright's positivity and upbeat personality attracts new customers and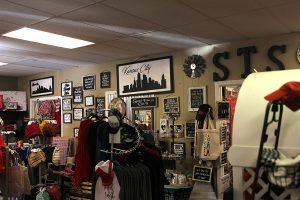 has helped her secure multiple relationships with the customers who visit frequently.
One regular, sophomore Kaleigh Johnston, visits the boutique with her mom and enjoys its comfortable vibe.
"ShananiGanns is a really welcoming space," Johnston said. "The owner and I will always talk about what's going on in our lives and chat about the newest inventory."
The energetic and friendly environment plays a big role in gaining customers, but the creative products increase revenue and keep the business running. ShananiGanns provides Royals and Chiefs merchandise, holiday-themed decorations and local high school apparel all at low prices.
Johnston believes that the cute clothing and accessories provide a diverse style for customers to choose from and said that the variety of designs improves her shopping experience.
"I really love how I can go to ShananiGanns and always find
unique things," Johnston said. "I know that everything has been made by good people."
All inventory is provided by 34 local vendors. Gann-Albright's favorite part about owning her own business is establishing relationships with the people who contribute to the boutique's success. She also appreciates having a flexible schedule that can be wrapped around her busy lifestyle outside of work.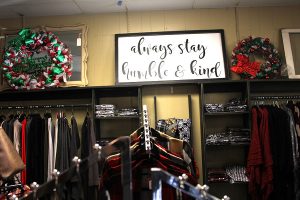 "My favorite thing about ShananiGanns is my vendors and the family we have become," Gann-Albright said. "With the vendors and all my customers being in my life, I have the freedom to do what I want to do."
Gann-Albright dreams that her business will continue to grow, but will also be kept a small-town shop.
"It will never be commercialized, and I don't want it to look like a department store," Gann-Albright said. "I also want to always keep it a hot mess."
(Visited 504 times, 1 visits today)