Sexting proves problematic among students
Despite legal and social consequences, some students still choose to sext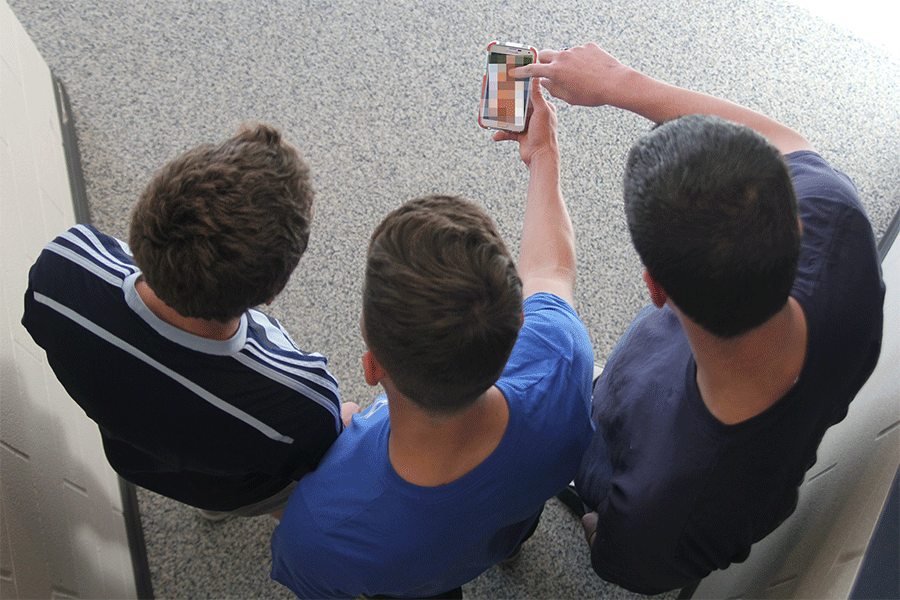 Justin Curto, Margaret Mellott, Adri Talavera, JagWire managing editor, JagWire reporter, JagWire feature/A&E editor
November 13, 2014
She thought it would solve everything.
After having a fight with her then-boyfriend, a junior girl who wishes to remain anonymous sent him a sext, a photo including partial or full nudity, to "make it up to him." Four years later, she sexts almost weekly.
"I thought he would like me more," the junior said. "Now I send them to pretty much anyone I have feelings for."
Prefacing the problem
Although sexting has existed since the popularization of cameraphones, it recently resurfaced as an issue among teenagers across the nation.
Typically, sexting situations begin with one student sharing sexually explicit, usually nude, photos with another student. More often than not, the intended receiver sends out these photos to others. This is when authorities get involved.
Students caught with explicit photos on their device face legal consequences and possibly jail time.
If someone under 18 sends a sext or asks for one from someone who they know is under 18, he or she can be charged with a felony, fined and possibly jailed for up to 34 years. Sexting charges also lead to registration as a sex offender.
A common issue?
According to a study conducted by GuardChild, one in five teenagers have sent or posted online nude or semi-nude photos or videos of themselves. Similarly, a JagWire survey found that 22.5 percent of Mill Valley students surveyed have sexted.
Despite these numbers, school resource officer Mo Loridon has not yet arrested a student for sexting.
"I can't say I've really charged anybody," Loridon said. "I only know of one case since I've been here at Mill Valley that actually got charged."
Not just sending
Some, such as a sophomore girl who wishes to remain anonymous, have resisted the pressure to sext after being asked on multiple occasions.
"It's not how I wanted things to go," the sophomore said. "I wasn't up for [sexting]. I was kind of offended because I thought he liked me."
The students who send sexts are not the only ones involved in the issue. According to social worker Debbie Gudenkauf, those asked for sexts, typically girls, often feel pressured to get involved themselves.
"What I've seen is guys typically ask and girls don't know how to say 'that's not appropriate, I'm not going to do that,'" Gudenkauf said.  "Often, they like each other … What may start out as just flirting and teasing goes to that level."
However, when someone sends a sext, it doesn't always stop at the person to whom the picture is sent.
"Sometimes I share them with my friends," the junior said. "I'm pretty sure [my ex-boyfriend] has shown some of his friends."
Responses to sexting
Though it often goes unreported, Gudenkauf offers many students advice after negative experiences with sexting.
"[I deal with] several [cases] a year," Gudenkauf said. "Usually girls and parents of girls are the ones I hear from … I just talk with people about respecting themselves and others, but what's done is done."
Loridon said he would not be reluctant to charge students with sexual exploitation of a child, the penalty associated with underage sexting.
"If the other person that received the picture was offended by the picture and they didn't like it, then I have no problem with charging it," Loridon said. "[If there's] any crime, it's my job to do something."
Educating students
While Mill Valley currently does not have any programs for sexting education, guidance counselor Trish Chandler said it could be included with education about other illegal activities.
"I think it can be related to choices in general besides sexting [like] drinking [and] drugs," Chandler said. "I mean, I think they all go hand in hand that way."
Others, like Gudenkauf, think the responsibility to educate students about sexting falls on their parents.
"If they're going to allow their kid to have technology, there needs to be a discussion about what's appropriate and what's not," Gudenkauf said. "I don't think it's a school's responsibility to teach that … I say that as a parent myself."
Firsthand advice
Even though she sexts, the junior does not think others should.
"I know kids in the fifth and sixth grade who sext because they think it's cool, when in reality it's not," the junior said. "Don't sext. It's not smart."
(Visited 4 times, 1 visits today)