Several new classes are open to students
Three classes were offered to students on the course selection guide this year: AP Environmental Science, Business Law and Repertory Theatre
AP Environmental Science
For students passionate about the environment, AP Environmental Science offers a comprehensive look into the field of environmental science.
According to AP Environmental Science teacher Julie Roberts, having another AP science class broadens the course selection and teaches crucial lessons on environmental conservation that Roberts believes everyone should learn about.
"[The class] provides another opportunity for an AP class for kids who want a science other than Chemistry or Physics," Roberts said. "It also brings to the school an opportunity for students to learn more about the environment and topics that I think are critical for our planet full of people."
According to senior Jacob Hoffman, being in an AP course also allows the class to dig deeper into the content and better cover the material relative to grade level Environmental Science.
"[AP Environmental Science] benefits the school because while there is regular Environmental Science, it is only a semester long and you can't really go in depth," Hoffman said. "Having AP gives you a better understanding."
The content is so thorough that Roberts fears being able to cover it all by the end of the year. The content focuses on ecology, Earth's various resources and human impact on them. Additionally, the class teaches conservation, which Hoffman said is important.
"It's a very valuable class because a lot of people know [our] impact [on] the environment is great but they don't know how bad it is," Hoffman said. "It is better to understand what you can be doing to better the environment."
Beyond teaching students how to conserve the environment, the class also helps students pursuing environmental science in future studies, according to Roberts.
"The field of environmental science is so big right now," Roberts said. "It will be a great benefit to the students that are going into the field after they get out of school."
For dedicated and enthusiastic students, Roberts recommends taking AP Environmental Science, and believes the content is engaging.
"Anybody who is passionate about the environment and willing to work hard [should enroll]," Roberts said. "The content is interesting and relevant, [so] even though it is a hard class it is enjoyable to learn about."
Business Law
The newly offered Business Law class is the perfect class for anyone looking for a more complex business option.
Business teacher Nicole Porter said that this class is different than the other classes offered in the business department because of the special curriculum the class has.
"Overall we talk about the law and some of our constitutional rights and the court system," Porter said. "We also talk about contract law, consumer law, the rights business have, lawsuits and the difference between civil and criminal law."
The best part about the class is how each day is structured, according to senior Ryan Williams.
"[Porter] will teach a bit … then you have a little project to work on," Williams said. "It's good because she'll teach you something and then she'll give you an opportunity to demonstrate that you learned what she taught."
Porter added that you must take Business Essentials to be able to enroll into Business Law, because "it's a little more challenging, and the material is more dense than some of the other classes that we offer in the business department."
Senior Sydney Clarkin has a job that allows her to use what she learns in Business Law on a daily basis.
"I wanted another business class because I've been taking classes in the business department since my freshman year, and I actually work at a law firm, so it's fitting for me to take it," Clarkin said.
Repertory Theatre
Four extra shows are being put on by the drama department this year as part of Repertory Theatre; a class which gives students the opportunity to expand their drama portfolio.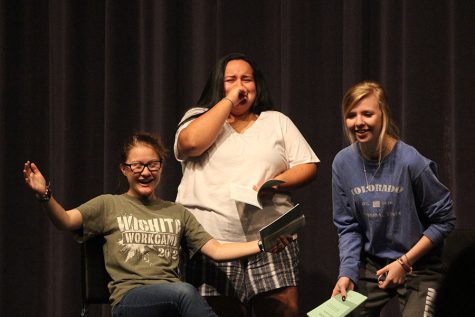 According to fine arts teacher Jon Copeland, the idea came to him because he wanted to match other schools' drama departments in their number of productions.
"The schools in the area all have Repertory Theatre classes where you work on the performances in the class," Copeland said. " I wanted to add shows to the department so the kids would have more chances to perform."
This full-year class is available to sophomores, juniors and seniors. Over the course of the fall semester, repertory theatre will be putting on two shows— Harvey by Mary Chase and Too Much Light Makes the Baby go Blind —as well as two shows during the spring semester.
In this senior-heavy class, senior Lucy Graff thinks that opportunities will be presented to the students to improve the well being of the department.
"We've had an in depth conversation about how we can make the theater department better for underclassmen," Graff said. "[We want to] help make them feel as welcome as we did when we first [started] high school."
(Visited 114 times, 1 visits today)
About the Photographer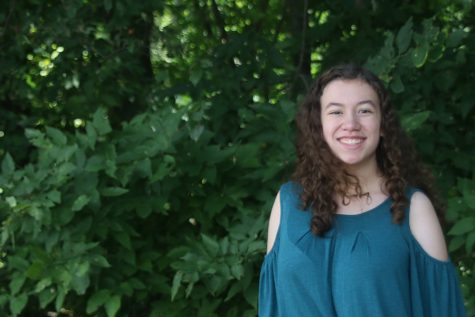 Sophia Armendariz, JagWire reporter/photographer
This is sophomore Sophia Armendariz's first year on the JagWire staff, and she is currently serving as a reporter and photographer. Outside of journalism, she acts in Mill Valley's plays and musicals, participates in the National Art Honors Society and edits the Literary Magazine. When not taking part in school activities, she also likes to draw and play the piano.