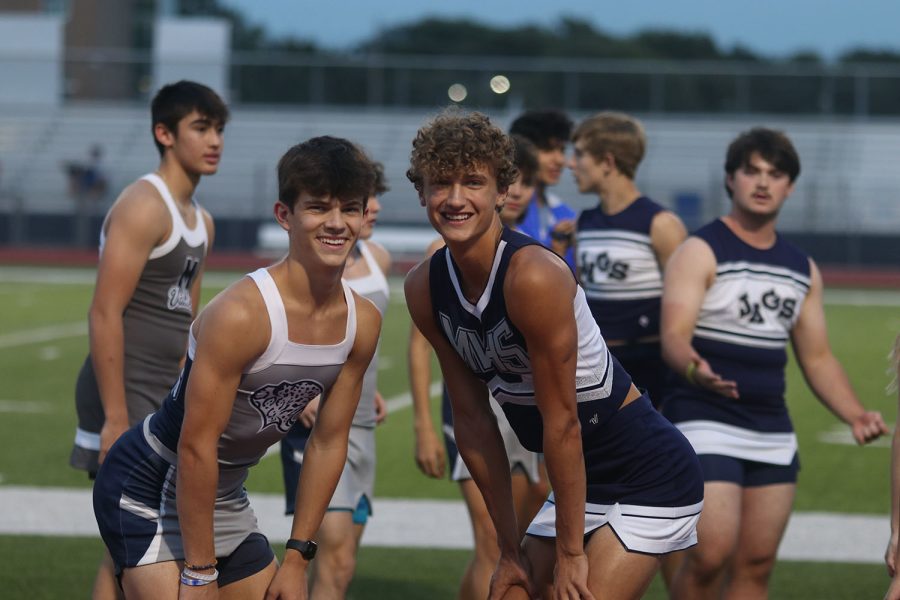 Seniors win the annual Powderpuff football game for the second year in a row 21-14
Following the Homecoming parade, junior and senior girls competed in a game of flag football and were coached by football players Wednesday Sept. 14
The seniors had been preparing for the game by learning different plays and positions. Senior Savannah Harvey, a running back, shared her experience after her second year playing on the Powderpuff team. 
"There were a lot of coaches, my coaches were [seniors] Sidney Lockhart, Hayden Jay and Amarian Graves," Harvey said. "It was fun for them to coach me because it was like they were coaching an actual football game. I really enjoyed them being my coaches."
After multiple practices, it was time for the actual game. Junior Kate Ricker, who took on the role of quarterback, played alongside her best friend, junior Julia Coacher. Ricker explained how the game created new memories for them. 
"Watching Julia dive for the ball was pretty funny to watch," Ricker said. "Overall, everyone had an uplifting energy, which made the game a lot of fun and it was fun to cheer on my friends." 
During the game, once Harvey got into the endzone, she celebrated with other members from her grade. 
"My favorite part was definitely one of my touchdowns,"Harvey said. "I celebrated with a backflip in the endzone, it was really exciting for me." 
Additionally, a group of boys were the cheerleaders for the night dressed in cheer uniforms. The group of boys were coached by the cheer team. Ricker described what it was like to watch them cheer. 
"Turning around and seeing the boys stunting was pretty funny and unexpected," Ricker said. "They did a good job with the chants and it was entertaining for the rest of us." 
The game ended successfully with seniors taking home the win 21-14. The night was special to Harvey and her friends. 
"I am glad I made all the memories playing flag football with my friends," Harvey said. "A lot of my friends that could not do it last year got to play this year, I am glad I got to play with them."
(Visited 84 times, 1 visits today)