Seniors prepare for marriage before heading to college
This June, senior Preston Cole will marry his fiancee he met in seventh grade
Summer is an extra special time of year. School's out and the sun's shining, and senior Preston Cole and Truman High School senior Jessica Curtis have a big summer ahead of them. After five years of dating and eight months of engagement, they're getting married.
Preston and Curtis met in their seventh-grade math class at their middle school in Independence, Missouri, where they sat by each other. He would help her with her homework, and that's how their relationship started.
"Towards the end of my junior year while looking at colleges, I realized that I didn't want to lose Jess," Preston said. "After thinking about it further, I had decided that summer that I was going to propose."
In August, Preston proposed by handing off Curtis' sister's bouquet to Curtis herself. Since then, they've bought a house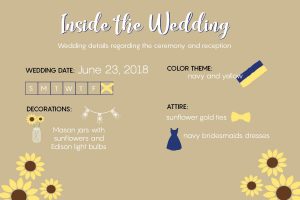 outside Missouri State University, which is where they plan to attend college. For Curtis, the current distance between them is a challenge.
"[Planning our wedding has] been kind of crazy, especially since I can't be with him every day to ask him what he wants to do," Curtis said via phone. "I can call him or text him, but it's really not the same as talking about in person. [With a hectic senior year] it's just hard to focus on planning, but our moms have been amazing in helping us, so they've definitely kept us on track."
Tammy Cole, Preston's mother, tried to encourage them to wait until after college, but after seeing them grow, Tammy changed her mind.
"Each and every time we talked to the kids about that and explain that to them, Preston comes back and says they're very strong," Tammy said via phone. "I have no doubt whenever I look at the two of them that they will lean on each other and use each other for strength, and we know they'll be happy with each other."
The general idea of marriage right after high school sparks differing viewpoints. Preston feels the act is a big deal, commenting on maturity relating to the few marriages right out of high school. Meanwhile, Curtis doesn't see a problem.
"I think it's all about when you're ready and when you both think you should make the next step," Curtis said. "You really need to be at a point in your life where you know you can support each other, you know you can be there for a person emotionally and physically."
In the end, Preston believes their "love is real" and looks forward to his future with Curtis.
"Life is literally a search for love and after finding love is when it really begins," Preston said. "It just so happens that my life will truly be starting this summer while others take years to start life. We all go at different paces, but all that matters is how we play life after we find that love."
(Visited 32 times, 1 visits today)