Seniors model for local photographers
Photography companies Modern Monroe Portraiture and Sweet Chai Photography offer seniors a chance to model
Anika Roy, JagWire editor-in-chief
February 7, 2017
Senior Kelsey Poje carefully holds a pose in front of photographer Heather Allen of Modern Monroe Portraiture in Shawnee Mission Park. While it may seem like an ordinary shoot, Poje's pictures will be used in advertisements and posted online for anyone to see.
Recently, many senior photography companies in the area have started using students as models for sample pictures on their websites and social media accounts. Two of the largest companies that directly incorporate several Mill Valley students include  photographer Faith Bilyeu with Sweet Chai photography and photographer Heather Allen with Modern Monroe Portraiture.
A model for Modern Monroe Portraiture, senior Bella Italiano believes that the model teams for both photographers share the purpose of recruiting and encouraging high school seniors to use the company they model for.
"As a senior model, it's our job to help promote the brand," Italiano said. "We do multiple photo shoots throughout the year to help gain attention for the [Modern Monroe Portraiture] brand, and try to get referrals for more senior pictures."
Senior Natalie Carrera is proud of why she is a senior model for Sweet Chai because of her admiration for the company.
"I really like promoting her business because she's a really great photographer and I think she's got something that's really awesome," Carrera said.
While Sweet Chai's models can join the team if recommended by a previous senior, Modern Monroe requires an approved application. Last spring, senior Kelsey Poje applied to be a model for Modern Monroe.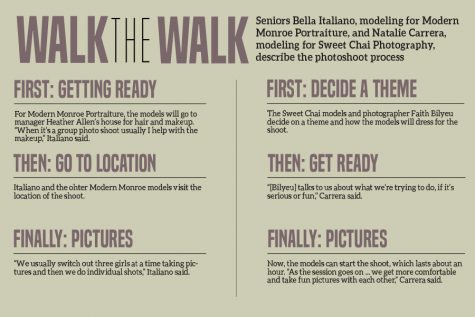 "It's not a super stressful application process; it's not really competitive," Poje said. "[Allen] asked where we go to school … and basic stuff like that. It also asked fun stuff, like why we want to be a model for the company."
Allen and Bilyeu have unique styles when taking pictures of  models to end up with a specific product. Carrera believes Bilyeu of Sweet Chai emphasizes the naturality in her photography.
"The whole process feels very natural when you're out taking your senior pictures," Carrera said. "All the photos, they're not photoshopped or airbrushed because [Bilyeu] is really all about it being about you."
According to Italiano, a historic, charming style is adopted in Allen's photos to create an intriguing end result.
"Modern Monroe definitely is a more glamorous photographer," Italiano said. "She really takes inspiration from old-time glamour, which I really liked about her. It's all in the name, she just modernizes Hollywood in a way and the pictures that she takes are always so beautiful."
Poje has enjoyed her time as a senior model mostly because she has been able to form bonds with girls she may not have spent time with otherwise.
"It's girls from De Soto [High School] and from Mill Valley so you make new friends and it's definitely a bonding experience," Poje said. "It's fun to have these amazing pictures of yourself and all these other girls."
(Visited 68 times, 1 visits today)
About the Contributor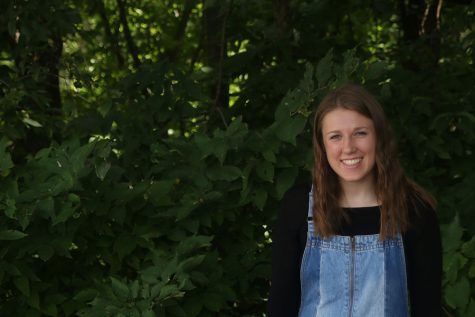 Anika Roy, JagWire editor-in-chief
This is Anika Roy's third and final year on staff, and she's incredibly excited for her position as editor-in-chief. While you can find her in the journalism room almost all the time, she also spends free time on the tennis courts, the piano, the swimming pool, or her church. Additionally, she's an officer of NHS, an executive leadership team member of Relay for Life, and a member of Spanish Honor Society, MV Outfitters, and Student Ambassadors....