Seniors leave impact on football tradition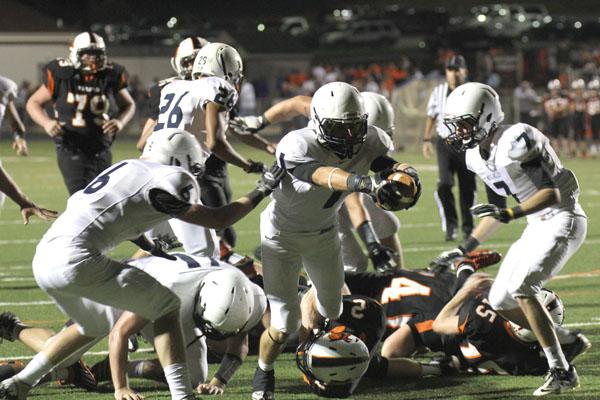 As the football season came to an end on Friday, Nov. 2, senior quarterback Skyler Windmiller said that his final game of his high school career was one of serious emotion.
"Even during the team warm-ups I began to tear up," Windmiller said. "Toward the end of the game was the hardest part. Everyone was crying; it was tough."
The season ended with a record of 8-2 and a Kaw Valley League Championship led by the 18 senior players. The last game played ended in a loss of 41-23 to Bishop Miege High School in the first round of state playoffs.
Skyler's mom, Hope Windmiller, explained what her son's final season meant to her.
"[This season] meant everything to me," Hope said. "A lot of our boys have played together since second grade … so it was kind of the ending of an era."
Senior running back Kendall Short said that the only thing he would have changed about his final season was the second half of the Bishop Miege game, but even the loss held value.
"Of course it was disappointing to lose in the first round of state," Short said. "However, I feel like the younger players received a lot of exposure to the dynamics."
After playing for two years, sophomore tight end Zach Hanna said that the seniors made a huge impact on the underclassmen of the team.
"They showed [us] how to treat others and be role models," Hanna said. "They really made the whole team come together as a family and are probably the greatest senior class."
Senior wide receiver Staton Rebeck agreed that bringing the team together as a family and tradition was the most important part of this season.
"Jaguar football means family and tradition," Rebeck said. "It's a lot of work, but with all of that hard work, you grow close in bonds like a family. And the new coaches are starting a tradition of working hard in the weight room and becoming close with all of your friends."
This season, the team's motto was "Set It in Stone." As Short explained, this meant a newfound tradition throughout their family atmosphere.
"'[Set It in Stone] is a way for us to pave the way for the classes under us to have better seasons than what we had," Short said. "It's setting a good example for them and making them successful for the years to come."
Rebeck said that if he could tell the teams in the years to come one thing, it would be to not take time for granted.
"Work hard, have fun and make it last," Rebeck said. "It goes by fast so just play hard."
Head coach Joel Applebee said that if he could say one thing to his players, it would be how proud he is of them.
"I am very proud of [the players]. They worked extremely hard," Applebee said. "I couldn't be happier with what they did and what great kids they are."
(Visited 13 times, 1 visits today)
About the Writer
Alana Flinn, JagWire editor-in-chief
Alana Flinn is a third year staffer who is looking forward to a year full of new experiences. As editor-in-chief, Flinn hopes to finally win a Pacemaker for Mill Valley News while maintaining the quality of JagWire. She will also continue to report on her favorite sport, football. Flinn's favorite quote is: "Every person you meet, every single one, is looking for their story. There are no exceptions. You become part of it by how you treat them." -Anonymous