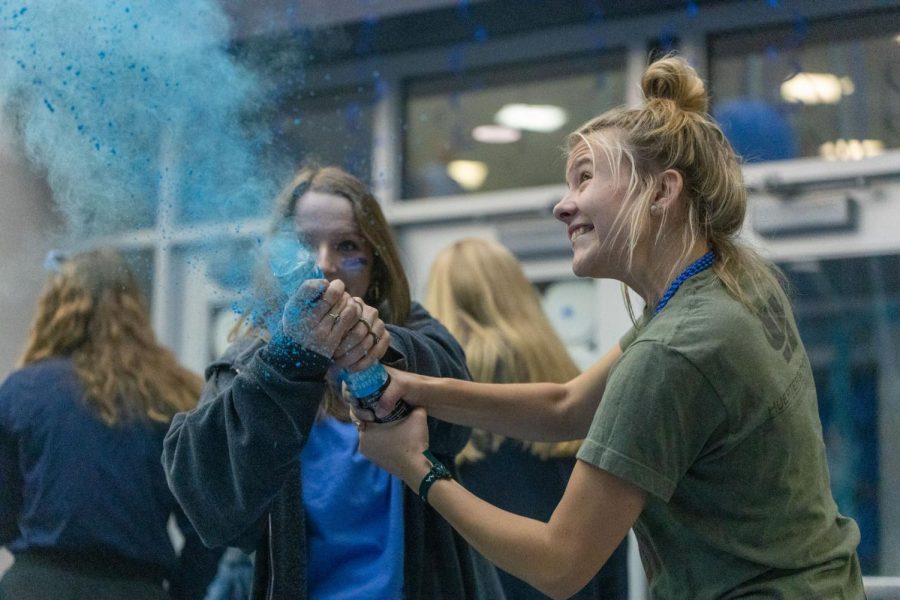 By Hailee Ford
Seniors finish off Homecoming week by holding their annual Blue Bomb
The senior class held the annual Blue Bomb Friday, Sept. 16
Blue Bomb marked the end of Homecoming week Friday, Sept. 16. It consisted of the senior class getting to the school at 6 a.m., decorating the entrance of the school and foyer in anything and everything blue and ending with a mosh pit. Senior Carli Dupriest explained how the senior class planned Blue Bomb.
"We collaborated through a group message and we discussed what time to arrive at the school and about what items and decorations each person needed to bring," Dupriest said. "Then we all arrived at school and basically trashed and decorated it with anything blue."
Additionally, senior Ashlyn Elliott talked about why Blue Bomb is a very important tradition that happens during Homecoming week. 
"In my opinion, Blue Bomb is an important tradition during Homecoming week because it is a very fun event for the seniors and it is a very important tradition that school has always had," Elliott said. "It is also very important that we carry on that tradition so that future classes are able to hold this event as well."
Similarly to Elliott, Dupriest also described why Blue Bomb is important to the school and senior class.
"Blue Bomb is a very important thing to Homecoming week because it is a memorable thing for the senior class to have," Dupreist said. "Especially because it's the senior's last year and we want to be able to do something fun, and everybody gets to enjoy it."
Overall, Elliott explained her favorite and least favorite parts of the event.
"My favorite part about participating in Blue Bomb was decorating the school. It was super fun to cover everything in blue and the seniors were really able to show off their school spirit," Elliott said. "My least favorite part of Blue Bomb was having to wake up way earlier than normal, which made me super tired all day."
(Visited 35 times, 1 visits today)