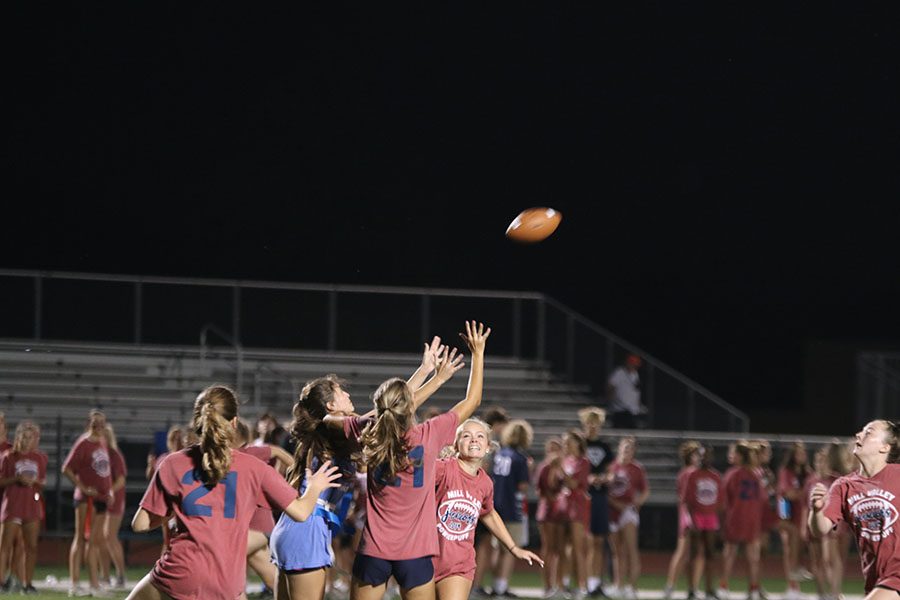 By Attey Field
Seniors defeat juniors in annual Powderpuff football game rivalry
Following their loss last year, the seniors won 14-7
The seniors won 14-7 In the annual Powderpuff football game Wednesday, Sept. 18. The senior team had two practices, allowing for more preparation for the game. After achieving the victory, the senior Powderpuff team jumped up and down chanting "I believe that we will win."
Senior Ashlyn Dempsey, who caught a touchdown pass, felt that last year's outcome pushed them to success.
"We were all so motivated, and I think it was that feeling of losing last year that really drove us," Dempsey said. "We knew this would be hard because the juniors are super athletic, but we wanted to show them what us seniors had."
Coach of the senior Powderpuff team senior Carson Caldwell believed the team would win because of the seniors' motivation and practices.
"I felt great about [the game]," Caldwell said. "The entire team did really good and gave their all.
I did expect them to win because picking up off of last year's game they just had everything they needed to go down."
According to Dempsey, the large student section assisted the team in their victory. 
"The big student section was so awesome and it was such a cool thing having them there to hype us up," Dempsey said. "[It] really made us have more fun."
As a football player himself, Caldwell got to switch roles and became the coach at the Powderpuff game. 
"There was a little bit of pressure being a coach, because obviously the girls will have lots of questions during the game," Caldwell said. "I was really excited to see them all go play and just have fun playing too."
Proud of the team's chemistry, Dempsey believed their performance topped last year's.
"I actually did not play last year due to a fractured femur, but last year I don't think the team connected as much as we did this year," Dempsey said. "The game as a whole was so much fun and we all worked so well together."
(Visited 330 times, 1 visits today)