Seniors choose to pursue careers inspired by their teachers
Seniors Carly Tribble, Mia Thomas and Grace Johnson are all pursuing jobs as a result of their teachers
Through senior Carly Tribble's time with broadcast advisor Dorothy Swafford, she realized her love for journalism, which she hopes to continue in college.
"Swafford inspired me to want to go into [journalism] … because I really love her teaching style and I fell in love with the program that she taught," Tribble said.
Going into high school Tribble had no idea what her future had in store, but once she took Swafford's video productions class, she knew that she wanted to be a journalist.
"Before I started high school I had no idea what I wanted to do," Tribble said. "I had a lot of things I liked … and had no idea which one I could actually see a path for myself in. When I started taking [Swafford's] classes I was …  really interested in the class and I really loved Swaff."
Swafford believes that the most important thing she has taught the students is how to deal with failure and come out stronger.
"I think my greatest influence is to not only be real but also [teach them] to understand that failure is real. In my classes they … have to revise all the time because nothing is perfect," Swafford said.
The style helps Swafford build better relationships with her students.
  "It's … a program where you get to know your kids and you get to build that relationship. When you build that relationship you're teaching them … how to problem solve, how to critically think, how to talk to others, how to work with others and teamwork," Swafford said. "Those are things that are just in about every job that you need."
What Tribble enjoyed most about Swafford's style of teaching was that she made it a priority to form meaningful relationships with all of her students.
"I really like how she's good friends with the students and … that she cares about a lot. That's the kind of teacher I would want to be," Tribble said.
---
After years of contemplating her future plans, senior Mia Thomas knew she wanted to be a teacher after taking her freshman year biology class with science teacher Betsy Meeks.
Despite only having Meeks for one year, the lessons she taught Thomas made her want to be a teacher.
"I haven't had her class since freshman year, but even now as a senior she … taught me the most about school and how to study," Thomas said. "I think she just made me realize what I wanted to do, she helped me … refine what I wanted to do with my career."
Meeks' capability to engage a room full of students is something that Thomas hopes to emulate when she becomes a teacher.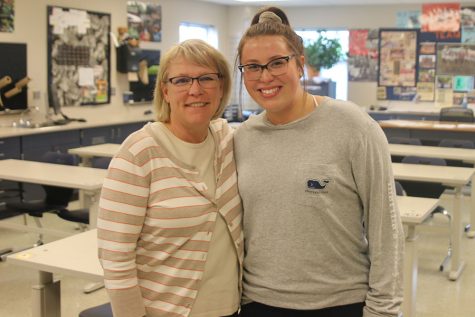 "[I hope to copy] her ability to capture the room," Thomas said. "I feel like she was so captivating when she taught and was … really there to help you."
Meeks believes that her teaching style is inspiring because of the opportunities she gave students to learn content on their own.
"I think every student has a different style … so maybe it was just the fact that I gave a lot of autonomy and … opportunities to learn … in the classroom," Meeks said. "[Thomas] came in with an amazing attitude of wanting to learn and that always really helps, I don't know if it's anything about my style it's probably more about her and what she likes."
---
Senior Grace Johnson's goal is to help the next generation of kids the way her teachers have helped her. While Johnson believes she has had a lot of great teachers, art teacher Jodi Ellis has inspired her to pursue a career as an art teacher.
"I want to teach art because I love being artistic," Johnson said. "I work with little kids [at JCPRD,] so I see how to bring out the creative side of them."
According to Ellis, the freedom she gives student like Johnson help to develop their artistic abilities and inspire them.
"Grace is very creative," Ellis said. "I gave her a lot of freedom to choose what she preferred … and I think that freedom allowed her to do work that was more meaningful for her."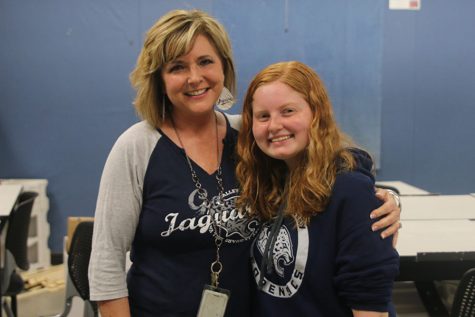 In addition to being inspired by Ellis, Johnson was inspired by her mom.
"[My mom] is one of the main reasons I want to be a teacher because … [of how she] leaves a lasting impression on her kids" Johnson said. "[Students] tell her about their lives and how she helped them with what they were going through when they were in high school."
Johnson is hoping that she can inspire the next generation of kids when she becomes a teacher.
"I want to … bring out the best in kids and I feel like the way to make a better future is to start with the kids," Johnson said. "I want to be able to inspire them to do things with their lives that are important."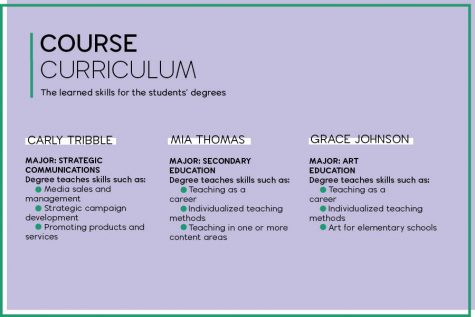 (Visited 178 times, 1 visits today)