Senior Wil Anglemyer enjoys repairing and rebuilding electronics
Senior Wil Anglemyer's unique hobby includes restoring items like TVs and radios
Anna Owsley, Mill Valley News editor-in-chief
January 19, 2019
Senior Wil Anglemyer's tools glitter in the lamp light as he reaches delicately through the radio's crevices and wires. A few minutes later, soft music streams through the speaker, sounding crisper than it has in years.
Senior Wil Anglemyer's passion for repairing and rebuilding electronics was born from his father's small, dusty radio.
"My dad had a little radio I liked to play around with back in eighth grade," Anglemyer said. "I brought it up from my basement and into my room. I wanted to make it sound better so I just bought more parts for the sound system and watched it grow as a hobby over the years."
After repairing the radio himself, Anglemyer was hooked. This unique hobby became more than an activity Anglemyer uses to occupy his hands with, but rather something that he believes anyone can benefit from.
"I [rebuild and repair electronics] because I think it's fun and if I can share it as much as I can, it might rub off on some other people. You can save money this way, by rebuilding your own stuff, repairing it," Anglemyer said. "At the end of the day, after everything is done, you just feel great about yourself about what all you've done."
Anglemyer's skills are not limited to radios, as he has worked on an extensive range of items.
"The most interesting thing I've probably ever built or rebuilt was a plasma screen TV that I repaired last year. It wasn't working at all last year so I just opened it up and did a little bit of research on it and I found that it was one of the boards, so I replaced a power board and then to be safe, the picture board," Anglemyer said. "It was absolutely fine and it is hanging on my wall to this day."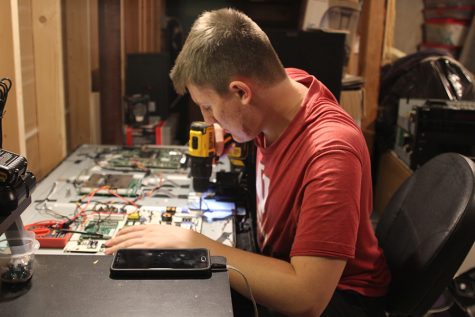 Senior Gabriel Hakes has seen Anglemyer use his skills to benefit those around him.
"If anyone needs help, he'll help them out," Hakes said. "If they don't know what they are doing, he'll help show them how to do it so they can actually learn something."
The dedication Anglemyer puts into his passion is demonstrated by his drive for opportunity, research and improvement.
"I like to get recent technology if I can. A lot of the time the people just throw out stuff [so] I find it. If I really want to build something, I'll put research into it on what I'll need and stuff," Anglemyer said. "I've been doing this for a few years now and I've just watched the experience grow over the years."
According to Hakes, Anglemyer's hobby sets him apart from the average person in society.
"There's not a whole bunch of people that like to mess with speakers and electronics," Hakes said. "They just like to buy new things and Wil likes to make old things work again."
While much of Anglemyer's success can be pinned on his own determination, he believes some classes can help someone learn the basics of what he does.
"[Residential Carpentry I] is probably the most useful class you can use after high school … that I've ever taken," Anglemyer said. "Not only do you learn electrical stuff in there, you learn basic skills around the house and how to repair things."
An aspect of his hobby that Anglemyer appreciates is the skill it takes to partake in it.
"My favorite part [about my hobby] is that I just see myself in a different perspective [when I do it]," Anglemyer said. "I think I'm smart, but this shows how smart I really am. Me sharing it to the world just shows the level of skill I have."
Anglemyer features his projects on his instagram, @wanglefix.
(Visited 151 times, 1 visits today)