Senior to dance on Kansas State University team
Senior Brittany Rouse accepted onto 2014-2015 Kansas State University dance team
Fifteen years of dancing, eight years competitive and three years on the Silver Stars dance team prepared senior Brittany Rouse for the audition of her life.
After two weeks of preparation and a "nerve-wracking" eight hour tryout, her number was called by the judges, announcing her acceptance onto the 2014-2015 Kansas State University Classy Cats dance team. As a lifelong K-State fan, Rouse was thrilled.
"[When I heard my number], I wanted to cry," Rouse said. "… It didn't hit me until we were taking the group picture. It gave me chills."
Rouse is the first student in school history to audition for the team and make it. When deciding whether or not to try out, however, nerves almost held her back.
"I was really nervous about it. It wasn't until about 2 weeks before [tryouts] that I decided I would go for it," Rouse said. "[Around that time], I had gone to a football game there and saw their dance team on the sidelines. Just thinking about dancing in front of all those people at Bill Snyder Family Football Stadium is really what made me decide … I couldn't not dance in college."
As a member of the team, Rouse will dance at a variety of events, including football games, basketball games and two bowl games. In addition, the team is frequently asked to make appearances at community events.
"I'm definitely excited to [dance at] the football games, but I think I'm most looking forward to the bowl games … The amount of people in the stands is insane," Rouse said. "Just getting to travel and have those experiences is going to be awesome."
In addition to dancing at events, Rouse said she is also excited about meeting new people on the team that she hopes will be her "friends for life."
Although she has enjoyed dancing in high school, Rouse is enthusiastic about going into college knowing she will be able to carry on her dancing career, especially at a Division I school.
"I finally feel like all the hard work I've done since I was three years old has paid off," Rouse said. "High school dance team is a big deal, but getting to dance in college is a dream come true for me … I'm really looking forward to it."
(Visited 212 times, 1 visits today)
About the Contributor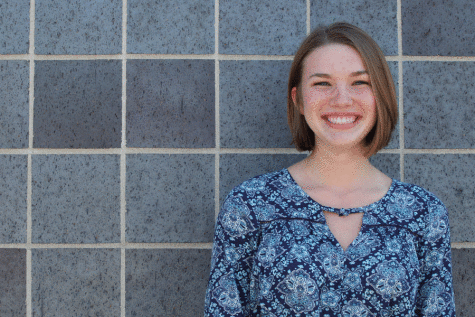 Sarah Myers, JagWire editor-in-chief
This is senior Sarah Myers' third year on staff. She is excited to be a JagWire editor-in-chief and make the paper the best it can be. While not in the journalism room, Myers can most often be found in the theater, performing in a musical or play. She is also involved in NHS, SLT and Student Ambassadors. Myers loves journalism, theater, any class of art teacher Jerry Howard's, history, life science, art, music, people and God. In her free time,...