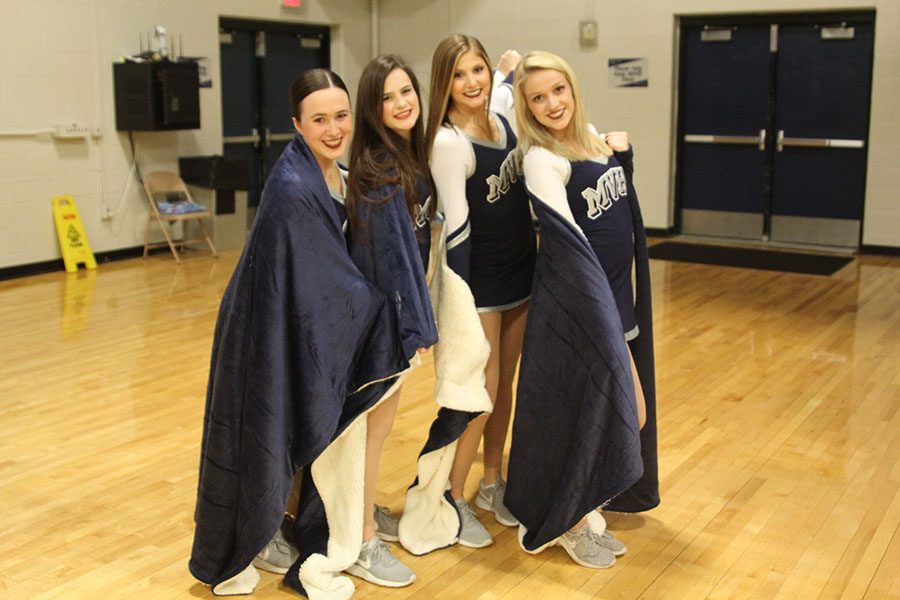 By Anika Roy
Senior Silver Stars draw inspiration from past classes to lead dance team
Seniors Olivia Augustine, Bella Line, Eve Steinle and Addie Ward utilize their past experiences as well as opportunities to learn in order to support younger dance team members
Arms out with one leg lifted, 18 girls twirl in sync with each other with coaches directing them. As their skirts flutter through the air and their bright lipstick pops out, four faces catch the eye.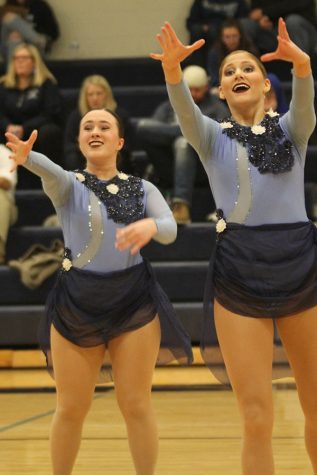 Every year, dance coach Katie Jackson releases a list of students that comprise that school year's Silver Stars Dance Team. During morning or afternoon practices, Blue One rehearsals or competition routines, you may notice the faces of the four Silver Star seniors, Olivia Augustine, Bella Line, Eve Steinle and Addie Ward in the front, leading the other dancers.
According to Steinle, the main difference with leading this year's class of dancers is the surplus of new members, whereas last year they were mainly returning members.
"The dynamic changed a lot last year because usually there are usually only a few new members each year, but we gained eight new members; a bunch of people were getting used to dance team which was different," Steinle said. "Also, last year was the first year we went to nationals so that added another dynamic, which made us do a lot better I believe."
The Silver Stars only began competing in the national competition two years ago. Ward believes the addition of this competition has helped the team come closer as well as given her the opportunity to hone her leadership skills.
"Over the past four years, dance team has become much more competitive. [Going from] not having gone to nationals my first two years to doing so well at nationals these past two years has completely changed the dynamic of the team," Ward said. "I learned a tremendous amount of leadership skills from past years captains and my coaches."
Likewise, Augustine drew inspiration from past senior members of the team.
"I try to be a leader to the younger dancers by knowing my cleaning and corrections so I can always have an answer if anyone is confused," Augustine said. "The seniors during my freshman year did a good job of bringing the team together. I always hoped that we could do the same."
As a senior, Silver Stars begin to partake in community-oriented activities, such as partaking in clinics or choreographing for the Super Stars, a group made up of students in the special education department. Additionally, they choreograph the Silver Studs dance routine; the Silver Studs are comprised of male students who practice and perform a routine during games and assemblies. For Line, this opportunity presented a fun, yet challenging responsibility.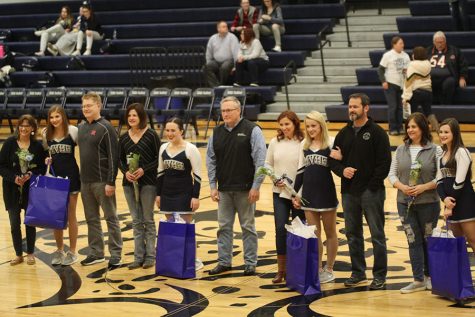 "Choreographing Silver Studs this year was super fun and challenging," Line said. "Every year, Silver Studs is fantastic, so trying to live up to that expectation is kind of stressful. I was super excited for the opportunity."
According to Ward, the bond between the girls goes beyond the dance team.
"I like being able to teach them tips about dance team and helping the younger dancers out, whether that be with dance team, school work or personal issues," Ward said. "I will miss seeing my teammates everyday because I don't think I will ever meet a group of girls this special ever again."
As their season comes to a close, Augustine enjoys the last moments with the dance team.
"I love the relationships that we make with dancers who are just coming on to the team," Augustine said. "Most of all, I will miss all my teammates, because they are some of my best friends."
(Visited 160 times, 1 visits today)