Senior Rachel Morgan nannies children with special needs
Next fall, Morgan plans to continue her passion and study special education in college
December 7, 2015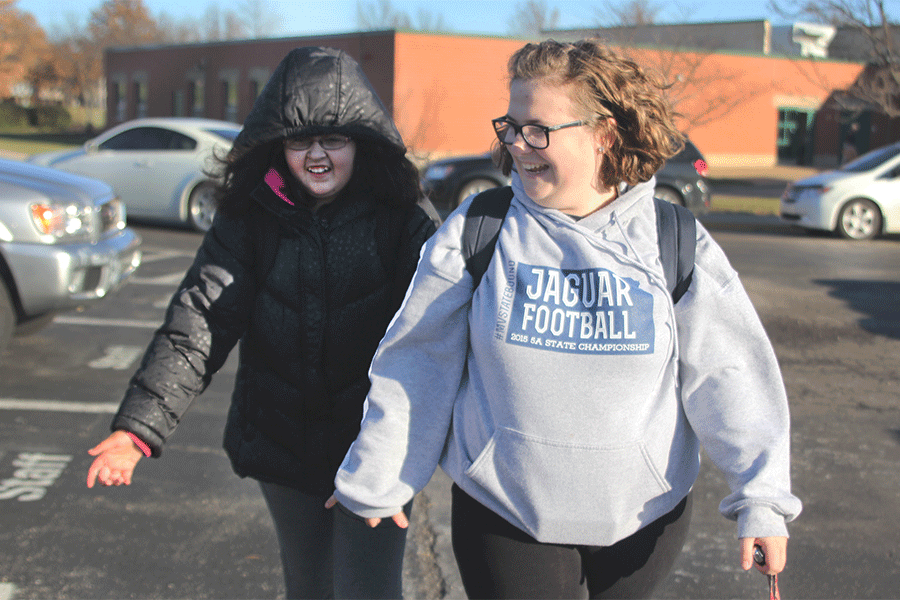 During her time after school, senior Rachel Morgan is able to get the best of both worlds by both helping those in need and working toward her future career.
Morgan regularly nannies two Monticello Trails Middle School students with special needs after school ends, spending time with them before their parents can pick them up. That usually entails going through daily routines at the children's houses, and guiding the kids through day-to-day tasks. Morgan became interested in helping those with special needs in part because of personal experience.
"I had a little brother who was going to have Fragile X [Syndrome], which is a form of autism," Morgan said. "They believed that he was going to have that as he got older and the situation would progress. He ended up passing away, but that kind of drove me to want to understand what these kids want and what these kids need, and how to help them, and I just kind of found my calling."
"
When you work with them closely and you kind of start to see them change on their own, that's a big accomplishment. So that makes me happy."
— Senior Rachel Morgan
Morgan's aunt met Tish Fagan at an autism fundraiser. Fagan was looking for someone to nanny her daughter, Monticello Trails Middle School eighth grade student Alyssa Fris, who has special needs, after the inhome daycare provider she had been using became unavailable. Morgan's aunt recommended her niece. Starting at the beginning of this school year, Morgan started nannying Alyssa on a regular schedule.
"Alyssa's not able to stay home by herself, even for the shortest amount of time," Fagan said. "Most daycares, she'd be uncomfortable because the kids are much younger than her. It ended up, with [Monticello Trails] being next to the high school, it all worked out. With Alyssa's special needs, she really can't be home by herself, so she needs someone to be around."
Working with special needs kids isn't just a short-term commitment for Morgan; she plans to pursue a career in special education, specializing in disorders on the autism spectrum. She'll be actively working toward that goal next year, when she plans to attend Benedictine College and earn a degree in the subject. In further pursuit of that passion, Morgan also teaches a nighttime religion class to kids with special needs at her church, adapting regular lesson plans to fit their learning style.
For Morgan, one of the best parts of her nannying activities is watching the improvement the children make.
"It makes me happy," Morgan said. "Just kind of watching their little accomplishments, and what they can do, it's hard for them to verbalize what they want or what they need or what's wrong. When you work with them closely and you kind of start to see them change on their own, that's a big accomplishment. So that makes me happy."
Fagan believes Morgan has been a very positive influence on her daughter's life, and looks forward to her daughter spending more time with Morgan in the future.
"She brings a lot of fun and they do fun things together, like [friends]," Fagan said. "Alyssa could always use an extra friend, and Rachel could provide that for her and is someone Alyssa can feel safe around. Hopefully we'll have her next summer before she goes off to college, to help me out."
(Visited 27 times, 1 visits today)