Senior pilot prepares for the future
Senior Jack Townsend discusses the process of getting his flying license and future plans in the military
Soaring in the freedom of the open sky is senior Jack Townsend's favorite thing about being a pilot. Townsend, who hopes to someday train for flight school, has been involved in flying since he was 15 years old. He first wanted to join the army to do special operations like his dad, which is when his father gave him the idea of being a pilot.
"My dad told me to try being a pilot," Townsend said. "I found a place in Topeka and ended up really liking it."
The process of getting licensed can take a long time. First, there is a year of ground school. Then, a three day intensive camp which is eight hours per day. Next, the instructor gives a test, if you pass, you take a three hour test called a written and requires a 70% to pass. Once you pass, you pick a flight instructor which can take up to a year. After that there is an oral test before going up in the plane. Next there is a check flight for an hour. Upon landing, the instructor will let you know if you passed.
Townsend says that he has learned several life lessons from being a pilot.
"Patience is the biggest thing, but also dedication. Especially because I have to go out to Topeka," Townsend said.
Townsend hopes to be accepted into the Warrant Officer Candidate School (WOCS) to do basic training,  then to flight school.
"I would be completing 11 to 13 months of flight school," Townsend said. "It is all helicopters."
The hardest thing about flying for Townsend is the amount of concentration.
"You have to do a lot of talking to the traffic," Townsend said. "You also have to do a lot of preparation to make sure the plane is flyable."
(Visited 8 times, 1 visits today)
About the Contributor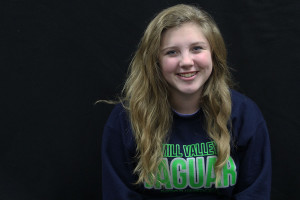 Ellen Merrill, JagWire reporter
Junior Ellen Merrill is a reporter and first year staff member for the Jagwire. She also plays volleyball, is involved in StuCo and Student Ambassadors and is a freshman mentor. In her free time she enjoys driving in her Jeep and spending time with family and friends, like  Annie Crouch. Laughing is her favorite thing to do. She lives by the words of Hannah Montana: "Life's what you make it so lets make it rock!"