Senior Paige Maggart designs tattoos
Artist Paige Maggart does more independently outside of school than what typical art class offers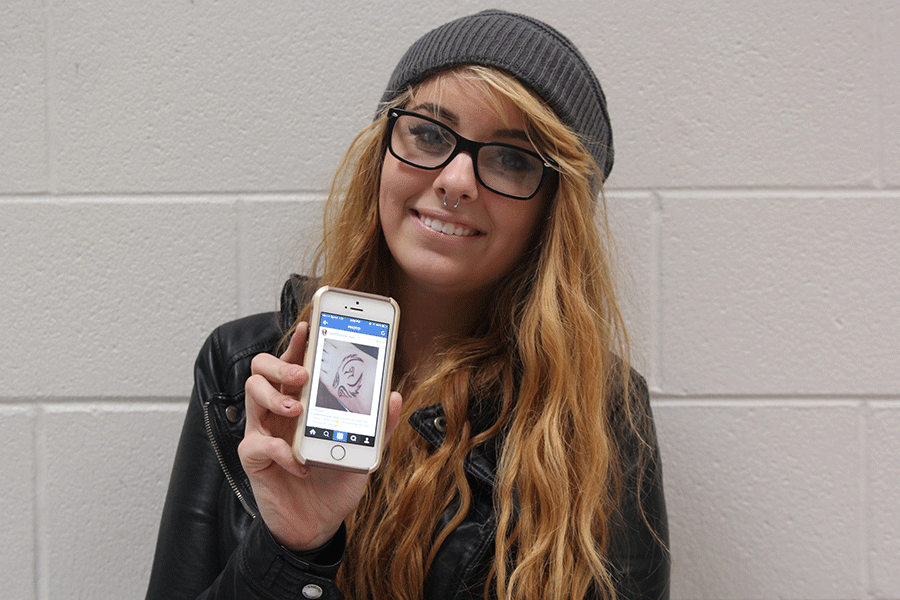 Mill Valley is filled with many talented artists, but for senior Paige Maggart, art goes beyond the classroom. She designs tattoos for people.
Maggart has not been designing for long, however, people started to notice her art on social media, which is where most of her clientele comes from.
"I started drawing last fall and then people just started asking me if I could design a tattoo for them," Maggart said. "Some bands would slide into my DMs on Twitter asking me to design a logo for their band."
Although she is just a beginner, she plans to further her skills beyond just designing and doing DIY tattoos.
"I wouldn't say that I am a tattoo artist yet, because I won't have my tattoo license until this fall," Maggart said. "I've only done stick pokes so far, but I've drawn designs that people have gotten tattooed."
Tattooing is not in Maggart's extended future, but she does plan on continuing her hobby on the side.

"Being a tattoo artist will probably not be my career," Maggart said. "I only plan on doing it through college and maybe after I graduate; I'll continue to do it on the side as second job for fun."
Supplies cost Maggart around $10 in total."Regardless of how much she spends on supplies," she does all her designs for no charge.
"I draw everything for free," Maggart said. "People have offered to buy my designs but I haven't accepted any money."
Maggart is honored to be able to draw for others.
"I like to draw and it's extremely flattering to me when someone likes something I created enough to get it permanently drawn into their skin," Maggart said. " To me that's something rewarding enough, and it's the absolute biggest compliment I could receive."
(Visited 33 times, 1 visits today)