Senior Maya Parks paves the path for her future as a pilot
With research and planning, Parks has mapped out her path for college to become a commercial pilot
High in the sky, accompanied by a family friend, senior Maya Parks was the pilot of a small, home built RV-7 plane for roughly ten minutes. In April of this year, Parks took what is referred to as a "discovery flight", one of the first steps she is taking to become a pilot. 
She has researched the education, certifications, and skills necessary to fly, and has laid out the path for her future. Parks can still recall the first time she realized she wanted to be a pilot. 
"When I was in eighth grade, I took a trip to Hawaii," Parks said. "On the way back there was a really pretty sunset. I just imagined what it would be like in the cockpit." 
In the past year, Parks and her mother, Shaunda Cohen, started discussing career interests, and Parks mentioned becoming a pilot. They began to learn more about piloting through research and figured out what steps Parks would have to take. In addition to this research, Cohen has helped Parks find scholarships, and plan her college route.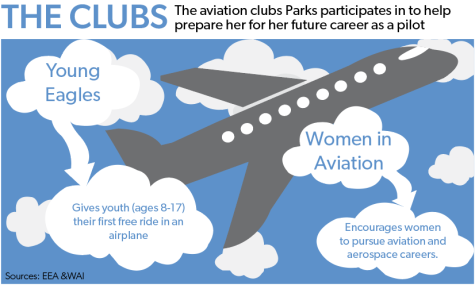 Parks is not currently taking flying lessons, but will attend ground school at Johnson County Community College during the spring of 2023, where she'll learn the basics of flying.
In the fall, she will major in professional piloting at the University of Central Missouri to earn her private pilot license. During her time in Missouri, she will earn more licenses, working up to a commercial multi-engine license. 
Parks shared that her main goal is to become a pilot for a major airline like Delta or American.  
"I want to work for a major airline and be able to fly internationally," Parks said. "That's always been a huge goal of mine, and [to] be able to go to a new country." 
Although the end goal will be rewarding, the education to become a pilot may be difficult with a price tag of $75,000. 
"The price is going to be a huge factor, I've been saving up a lot to help out," Parks said, "I also think the math and physics is going to suck, and having to know calculus." 
According to Cohen, Parks will have to navigate being a female in a male-dominated industry. Cohen has supported Parks through the process, even though it can be nerve-wracking. 
"I have to admit the idea of Maya flying makes me nervous," Cohen said. "If Maya is living her best life by traveling the world and doing what she loves, then I have to support that"
Despite the potential challenges, Parks is looking forward to seeing new places. 
"It's just something I've randomly fallen in love with. I just love flying," Parks said. "It's a whole new experience being up in the air and being able to go to different places, whether it's another state or another country."  
(Visited 99 times, 2 visits today)