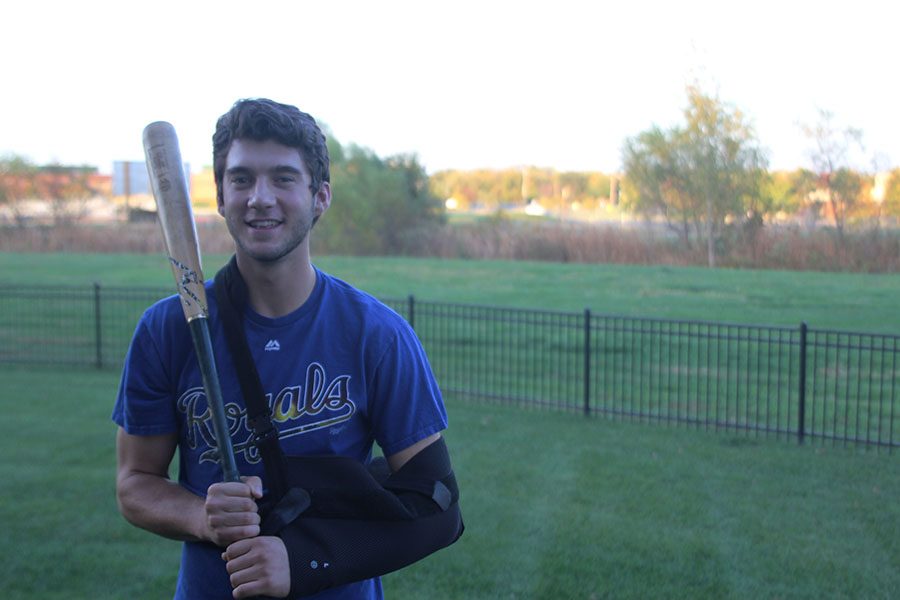 Senior Luke Sosaya overcomes labrum surgery
Sosaya will be forced to sit out for the rest of his fall baseball season, but will be back in time for school spring season
The health and stability of a shoulder is a crucial thing to a baseball player. One injury that could seriously damage the health of one's shoulder is a labral tear, which is the tear of a piece of fibrocartilage, also known as rubbery tissue. So, when senior Luke Sosaya underwent labrum surgery on Oct. 6, the impact was significant.
"The surgery really slowed down my life and forced me to be patient. I was used to being very busy and active and I couldn't do that anymore," Luke said.
Luke links his surgery to the multiple dislocations that occurred during his last baseball season at Mill Valley.
"Last March, I slid into a base head first and I dislocated it, and then I did it again two days later, and then a third time at the end of the spring season. It kept happening," Luke said.
The labrum surgery was performed through arthroscopy, which consisted of doctors using a small camera to repair his shoulder with sutures, anchors, or staples. Luke had very few fears, but made sure to prepare himself for what he was about to encounter. He later regretted his decision to watch a YouTube video, due to the goriness of what he saw.
The recovery process for Luke consists of wearing a sling for six weeks with physical therapy following that. In about six months Luke should be fully recovered, according to his doctors. Head baseball coach Jeff Strickland hopes for the best when it comes to the recovery.
"Ideally it will not affect anything, he will be completely done with rehab, and he will hit the ground running," Strickland said.
The recovery process has changed Luke's everyday lifestyle, including the way he gets to school. Senior Dalton Bray is payed by Sosaya's mother to take him to and from school, but Bray would do it either way. Without the use of his arm, there are minor challenges in everything Sosaya does.
"Putting socks on is very difficult, so is showering," Luke said.
Sosaya's mother Bridget Sosaya describes the surgery as a necessity to prevent future dislocations so that Sosaya is able to play baseball at Neosho Community College. Though she knew the surgery was a necessity, Bridget still found it hard to go through with it.
"As a parent it's tough to see your kid go through the pain; for four days it was really really rough," Bridget said.
Luke has learned just how much he appreciated being healthy.
"This whole situation has taught me to be patient and not take things for granted," Luke said, "When you are healthy you don't realize how easy going things are until you can't use a shoulder."
(Visited 43 times, 1 visits today)