Senior journalism student wins state honor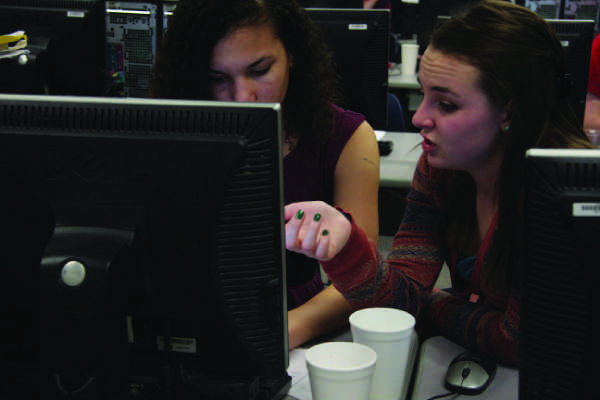 Kaitlin Rounds, web editor
March 8, 2012
Senior JagWire co-editor-in-chief Sarah Darby was awarded the top honor a Kansas student journalist can receive the day before her 18th birthday. On Tuesday, March 6 Darby received news that she had been named Kansas High School Journalist of the Year by the Kansas Scholastic Press Association.
The award includes $1,250 prize and a chance to send her portfolio to the national competition. The national winner will be announced at the NSPA/JEA national high school journalism convention in Seattle in April.
Darby began the process of putting together her portfolio in December. She spent about two hours a day putting together her portfolio until she finished it on Friday, Feb. 10. The final product consisted of 45 pages of examples of her work, four letters of recommendation and a personal letter of reflection.
The news of her success came to Darby in a slightly confusing matter.
"Mrs. Habiger gave me a number to call and then wouldn't tell me who it was or why I was calling," Darby said. "She finally told me it was Jeff Browne's number, who is the KSPA executive director and closely associated to the contest."
After getting a hold of Browne, he then told Darby she had been selected as Kansas High School Journalist of the year. The news was greeted with lots of hugs and screams of joy for Darby from both journalism adviser Kathy Habiger and senior Rachel Mills, who had also been in the journalism room.
"It was almost as if there was nothing going through my mind [when I found out I won], it was such an out of body experience," Darby said. "You don't ever think you can win something like that."
Darby, who has been a part of the JagWire staff since her sophomore year, received support and congratulations from her friends and family who have supported her through her career as a student journalist.
"My friends that are journalists realize just how exciting this is," Darby said. "My parents are excited as well because they've seen all the work and time I put into journalism."
One of Darby's most avid supporters has been her adviser.
"Her passion for what she does is amazing," Habiger said. "She always wants to know more. I think she truly believes her stories are helping people, just as a 'real journalist' would, and she should believe that, because it's true."
Darby plans to pursue journalism in the future, at least as she enters college in the fall.
"I think [winning this award] solidifies my starting place in college," Darby said. "I went from not being sure if I wanted to go into journalism and discussing other options with my parents. I just further feel like I need to at least give this a shot."
(Visited 7 times, 1 visits today)
Hang on for a minute...we're trying to find some more stories you might like.