Senior Jaclyn O'Hara expresses herself through cosplay
O'Hara enjoys bringing her favorite characters to life
Watching anime is an experience that for many does not extend further than the screen. For senior Jaclyn O'Hara, though, anime is an outlet to express herself through cosplaying her favorite characters.
In 2017, O'Hara first realized that she could do cosplay after discovering it online. To achieve the most accurate look possible, O'Hara often uses the internet to find photo references to perfect her cosplaying.
"I'm like a perfectionist, so I have to make sure that it looks the best it can look, so for the wigs, I look at a picture of the character, and I really look at how the hair goes, and how short it is exactly, and measure it with me," O'Hara said. "Another thing is the makeup…  it really changes, shape-shifts you… Cosplayers are shapeshifters. That's basically what it is."
She takes cosplaying seriously, but O'Hara encourages others to explore it and have fun.
"Cosplay, first of all, is very much self-expression, there's no right or wrong way to do it.  Any age can do [cosplay, it] really doesn't matter," O'Hara said. "And it's just really showing your love for a character that you see on a screen and bringing it to life."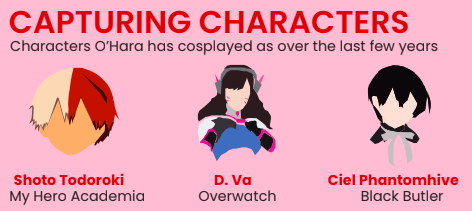 Both of O'Hara's parents support her cosplaying, taking photos for her and even cosplaying with her.
"Sadly I've seen my cosplay friends, some of them, their parents aren't that supportive of it, and I'm really thankful that my parents are supportive of it, and my brother too," O'Hara said. "They're very supportive of my cosplay, they think it's cool and hype me up."
O'Hara has found that cosplay has improved her personality and even taught her an important lesson.
"Don't judge people by the way they look. If you do judge, then you're really missing out on a really good person under the cosplay," O'Hara said. "I learned that the hard way, I judged, and I was mean, I didn't know. Now, I really like meeting and getting to know different types of people. I've noticed they're all people, not creatures or monsters, they are people."
(Visited 229 times, 1 visits today)