COVID-19 shapes the class of 2021
With a modified school year as a result of the coronavirus pandemic, seniors have had to adapt their expectations
ELLIE BOONE FOUND CLASS UNITY IN NEW WAYS
Senior Ellie Boone feels that COVID-19 has made it difficult to plan for normal senior experiences.
"COVID has definitely hindered the goals I wanted to accomplish my senior year," Boone said "I wasn't able to plan school events in Student Council."
For Boone, the pandemic has forced her to find new ways to interact with other seniors.
"This year I have been tested in my leadership, where I've had to find new ways to engage with the student body," Boone said. "Social media has definitely helped in this aspect, where we've been able to promote school spirit. I've also found unity with Desoto during this difficult time, as we created a district-wide service project and raised over $5k for a local homeless shelter." 
With the pandemic, Boone feels it has been hard for seniors to truly have a senior identity.
"It has been hard, especially for seniors, to come together since we haven't been given those shared experiences of blue bomb and prom, which is such a huge part of the senior culture," Boone said.
Even with the struggles, Boone still feels that seniors have been able to come and work together. 
"Even though the attachment to the senior class might be less than it has been in the past, I still feel a sense of unity as we can all confide in each other through the shared experience of COVID."

DELANEY FIELDS PRIORITIZED POSITIVITY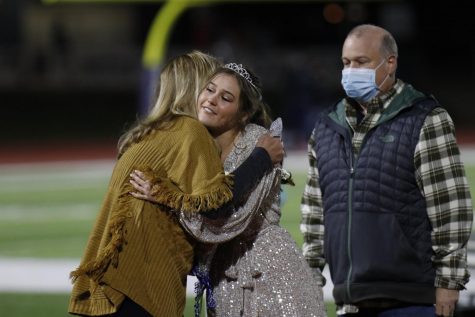 As she watched last year's senior class have prom cancelled and graduation restructured, senior Delaney Fields decided she needed to adjust her expectations for her own senior year. 
"I went into this year with low expectations, so I wouldn't be disappointed," Fields said. "Anything that we get is a bonus now."
Though she's continued to search for positives, Fields admits she has missed out on a few events she looked forward to. A homecoming queen candidate, she didn't get the chance to participate in the homecoming parade, an event she "always loved going to."
Fields also regrets not being able to see her fellow seniors in the final year they have together before going their separate ways. 
"It is really sad because we have been going to school with each other for a long time," Fields said. "This year we haven't seen a lot of people we would otherwise."
She remains determined to look on the bright side, though. With the additional free time she's had this year, Fields — a former soccer and basketball player — decided to pick up running as a new hobby. She's also spent more family time with her two sisters. 
"I think everyone should try to stay positive," Fields said "We should focus on the things that we are able to do."
LEIF CAMPBELL LEARNED HOW TO ADAPT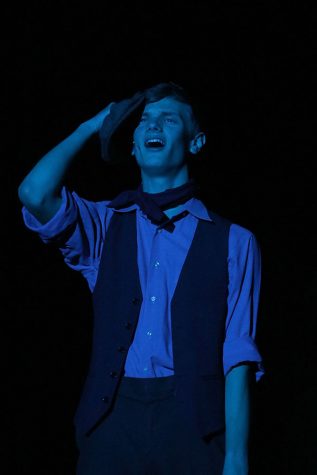 For senior Leif Campbell, learning to live with an underwhelming senior year has been both a struggle and a necessity; though he supports the health and safety precautions taken, he also hasn't been immune to their effects.
"It's made senior year terrible," Campbell said. "We need to take whatever precautions necessary, even if it means going full online for the rest of the year, but obviously we all want to be in person and back to school full time."
One part of senior year Campbell especially looked forward to was blue bomb: as a senior, he'd be drum captain, playing in the band and dancing in the foyer during the raucous event — and then he wasn't. Missing out on traditions like blue bomb, Campbell believes, has deprived him and his classmates of their senior identity. 
"I don't feel like a senior when I walk through the halls," Campbell said. "We do feel less connected, because we're not collaborating to make cool things happen around the school."
Despite all the hardships of his unprecedented experience, though, Campbell is proud of the resilience and adaptability he and his fellow seniors have shown. 
"We've learned how to adapt the learning model in numerous ways. We are more flexible with our time than ever, which is nice," Campbell said. "We have all learned to accept the situation and move on in our lives the best we can."

BRIANNA GUZMAN CHERISHES WHAT'S LEFT
Senior Brianna Guzman has felt this year has been very different than how she envisioned it as a freshman.
"Prom was the event that I always looked forward to the most as an underclassman," Guzman said. "I always expected senior year to be the best year of high school, the year that I would make the most memories. Although it hasn't been the year I always envisioned, I will definitely have many memories."
With being in the optional remote learning model, Guzman has had to modify the way she learns.
"It has been different having to adapt to this new style of learning at home and having class through a computer," Guzman said. "I'm very used to seeing people every day and sitting in a classroom but after a semester of being remote I'm starting to get used to it."
In addition to changing how she leans, Guzman has had some difficulty adapting to a lack of face-to-face contact with other students. 
"It's hard to stay connected to others when you don't see them face-to-face, especially when you got to know other people through classes."
Although it has been difficult, Guzman still feels there is still a lot of time left.
"I think seniors can still have a meaningful year by making the most out of the rest of the time we have together. It's our last semester and we still have graduation to look forward to," Guzman said.
(Visited 251 times, 1 visits today)