Senior girls start business to promote mental health
Seniors Kelly Doyle and Kylee Dunn use their small clothing and accessory business, impatient, to help spread the word on mental health
Sophie Sena, JagWire reporter/photographer
October 20, 2021
For many, small businesses are a way to make extra money for doing something they enjoy, but for seniors Kelly Doyle and Kylee Dunn, their small business is much more. Their business, Impatient, is a way to spread the word on mental health. The pair first started their clothing business in November 2020 as a way to cope with mental health problems they were experiencing during difficult times in their lives. Because of this, Doyle hopes that their brand is seen as a "warm environment."
The pair started off by making a couple of sweatshirts and then began to move on to making other clothing items like stickers, tote bags and shirts they sell on their website.The prices of their products range from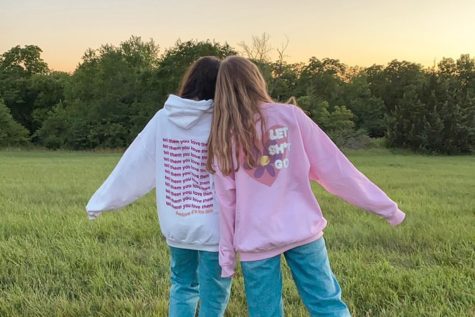 $3 to $60. Senior Sydney Wootton bought a sweatshirt and a tote bag from the girls' website. Wootton said that she liked the products because they are, "really good quality and they spread a really important message about mental health."
To Doyle and Dunn, their brand name, Impatient, has a significant meaning.
"Everyone just seems impatient with the life that they have now," Doyle said. "And so we've kind of interpreted it two ways, we're restlessly eager for change in our lives and we want to change."
Their message can be seen when looking at some of their favorite products like their "wish you were here" hoodie and "tell them you love them" products.
"I hope they see it as something that they can relate to and can look at it and maybe think deeper on things, because we are big on deep thinking," Dunn said.
Owning a business with another person can have setbacks such as scheduling conflicts and brainstorming, as Doyle says, the two are "very similar, but we can also disagree a lot."
Despite these setbacks, the girls hope to expand their social media presence to grow their brand, and hope to release more products in the coming year.
"We're really big on changing the norm of life," Doyle said. "We both have never had the desire to work like a nine to five job or to settle down and just live, we want to do crazy things. So, I think we are eager for change, we just want to change the societal norm of what's going on."
(Visited 430 times, 1 visits today)