Senior girls participate in Leukemia and Lymphoma Society's Student of the Year campaign
Seniors Dani Crispin and Allison Winker attempt to raise $5,000 for blood cancer research
Anika Roy, JagWire editor-in-chief
February 25, 2018
After articulating their passion for the fight against cancer to another gracious community member, seniors Dani Crispin and Allison Winker collect another $20 from the purchase of a personally designed t-shirt, reading "cure," placed next to an orange cancer ribbon symbolizing leukemia and lymphoma.
Along with many other Kansas City area high school students, Crispin and Winker have become involved with the Leukemia and Lymphoma Society's (LLS) Student of the Year campaign, attempting to together raise over $5,000 for blood cancer research in a matter of seven weeks.
"We all compete against each other to see who can raise the most money in that seven-week period time for LLS, as well as see how well we can engage our community, people at our school and different things like that," Winker said.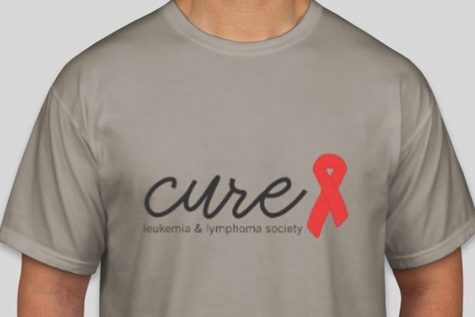 Crispin and Winker were nominated by Crispin's friend from church and a woman from Winker's neighborhood, non-Hodgkin lymphoma survivor Emily Dumler. In 2013, Dumler was given six months to live after both an unsuccessful chemotherapy and stem cell transplant. Her only remaining hope was a recently-opened clinical trial in which treated the cancer in a brand new way by harnessing the immune system. Dumler was only the third patient in the world enrolled. This established her connection with the society, as 70 percent of all initial funding came from LLS. To support the treatment development for all cancers, she ran for a larger-scale campaign for adults entitled Woman of the Year last spring where she raised $160,000 — more money than any other candidate in the chapter's history.
Dumler says she was confident in Crispin and Winker's ability to also make a difference to the society through their Student of the Year campaign.
"I nominated Dani and Allison because they are such hard-working and dedicated young ladies who truly want to make a difference in their community and in the world," Dumler said via email. "They will represent LLS in such a positive way."
Despite being humbled by the nomination, Crispin says they did experience an initial fear of the amount of time necessary to set aside for the campaign. However, through campaign work completed thus far, the fear has diminished.
"We both loved the idea of being able to raise more money for cancer, but we were both really nervous that it might be too time consuming or conflict with [our involvement on the] Relay for Life committee," Crispin said. "It ended up being really worth it though so I'm so glad we did."
Although agreeing  she "wasn't really sure about it" at first, the possibility for Winker to be a co-candidate with Crispin, along with her passion for the cause, sold her on the idea.
"Through Relay for Life and different kinds of personal things, Dani and I have both become really passionate about the fight against cancer," Winker said. "I thought that this would be a really cool way to feel like we were actually having a direct impact on raising money for a cause that I'm really passionate about."
Their co-candidacy, due to their longtime relationship and ability to work well together, has been a very positive experience.
"Allison and I have been friends for years and so the partnership has worked out really well," Crispin said. "We kind of split the responsibilities but most of the stuff we do together, which is good."
According to Winker, this list of responsibilities is lengthy for the given time period and requires organization and prioritization.
"The seven weeks go by a lot faster than you think," Winker said. "You kind of think 'oh, we have all this time,' but you don't. We have to take it week by week … figuring out what we need to be prioritizing and working on to make sure we stay on track."
Dumler has also taken on the role of Crispin and Winker's campaign mentor, in which she describes as being primarily for support.
"I check in on their progress and keep them motivated," Dumler said. "I just want them to know that I believe in them, and that I believe they can accomplish whatever they set out to do."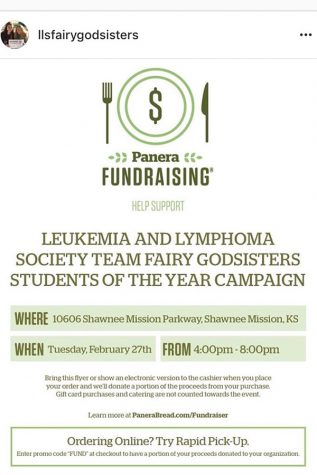 While so far finding success in their fundraising efforts, Winker also believes the campaign has allowed her to accomplish personal growth.
"This campaign has kind of forced me to put myself out there to really be like 'hey, this is something I'm really passionate about, can you help me?'" Winker said. "That has been challenging, but I think it's been good for me."
For Crispin, this act of asking members of the community to donate to their cause has been the most rewarding part of all.
"You see the surprise or thankfulness on their face to know that high schoolers are making a difference and trying to do something not for themselves," Crispin said.
And for Winker, the overwhelming support from those they've encountered throughout the campaign has been her favorite part.
"There's all these people that I never really expected to engage with the campaign that have made donations and supported us," Winker said. "Just seeing what kind of outreach we have with people around us has been so cool."
Panera Bread on Shawnee Mission Parkway is hosting a fundraiser on Tuesday, Feb. 27 from 4-8 p.m. for the LLS, with a portion of the proceeds going to Crispin and Winker's campaign. For more information, visit http://events.lls.org/mid/kansascitysoy2018/fgodsister.
(Visited 150 times, 1 visits today)