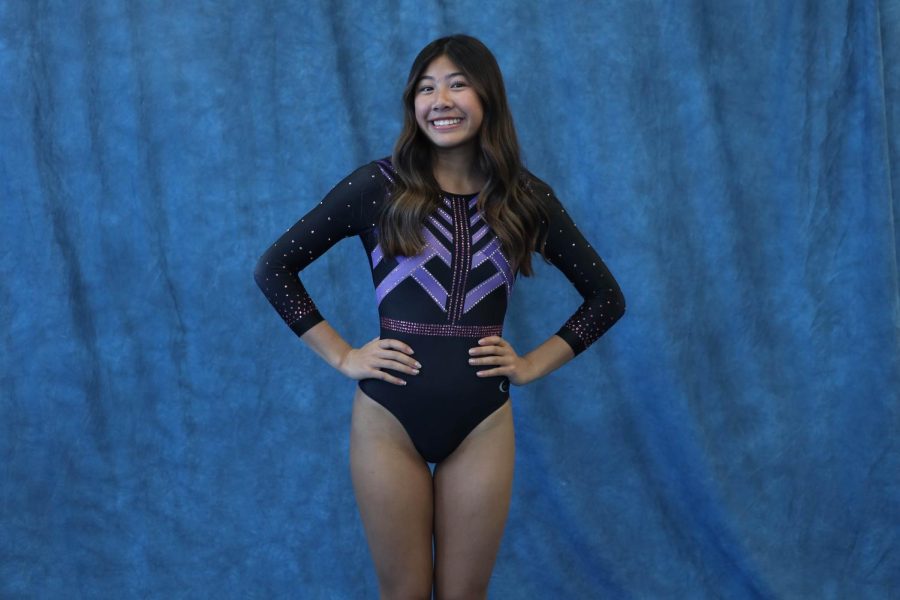 Senior excels after years of gymnastics experience
The 10 years she competed in gymnastics, senior Amaiya Manirad reached level 10 and learned countless lessons
Q: How long have you been doing gymnastics?
senior Amaiya Manirad: I've been doing it since I was seven years old.
Q: What gym do you practice at?
AM: Pinnacle Gymnastics.
Q: What made you want to start gymnastics?
AM: I started because my friends were doing grip classes. I already liked to do it at home so I started doing it with them
Q: What awards or big meets have you received or excelled in?
AM: I have qualified to level 10 state and regionals. My team also won state last year.
Q: What is something that people might not know about gymnastics?
AM: Just how much it takes before events. Each of the four events are so different so it's like four sports in one, in a way.
Q: What is your favorite part about Gymnastics?
AM: My favorite part is the bond that you form with your team. They're my family and the reason why I keep doing gymnastics.
Q: What is a difficulty that you had to go through?
AM: The injuries. It's a lot of time and work on your body which makes it hard to stay healthy.
Q: What is a misconception of gymnastics?
AM: Everyone always has the common question of 'oh are you going to go to the Olympics.' I always respond with 'well no because there's just a lot of different levels and options.'
Q: What do you do when you practice and compete?
AM: At practice, we do all the events. It's usually an hour on each and then we condition. Competitions are in the winter and we travel a lot for those so it's a lot of fun. 
Q: What has been one of your favorite memories from gymnastics?
AM: There are a lot. My favorite meat was in Florida because we all got to go to the beach together.
Q: How did gymnastics impact you?
AM: It has pushed me to grow up faster because practicing a lot has made me responsible for time management. So it's really helped me with the balancing part of life.
Q: What are you most proud of?
AM: I'm most proud of making it all the way to my senior year since starting in elementary. Little me would be so proud that I've done level 10, the highest level in JO, for three years. 
Q: How much time do you spend on gymnastics?
AM: I practice about twenty hours a week.
Q: What is your favorite routine to perform and why?
AM: My favorite routine is floor because I love to tumble and slip through the air. I like being powerful while also performing and dancing.
Q: Where do you want your gymnastics career to go in the future?
AM: I have considered doing college and I am still am but, it'll always be a big part of my life. I'll always be a fan, even if I don't do it in college. 
(Visited 3 times, 1 visits today)