Senior Evan Applegate signs to play Division I football at Kansas State University
Applegate chooses Kansas State after receiving 10 Division I offers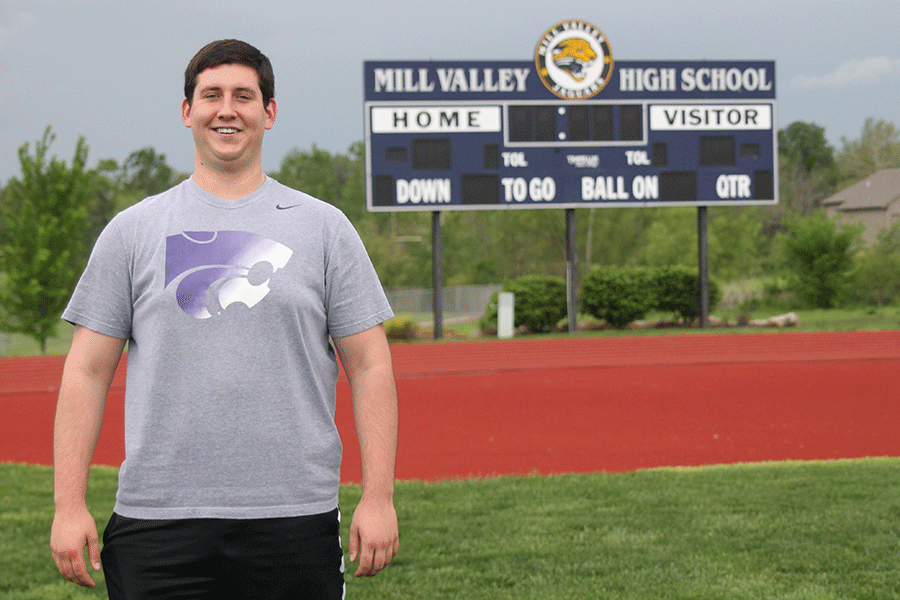 Sam Lopez, Braden Shaw, JagWire sports editor, JagWire reporter
May 14, 2015
Over the past year, Kansas State University has recruited senior Evan Applegate to be an offensive lineman for its football team. However, Applegate said KSU was not the only school trying to recruit him for football.
In total, Applegate received scholarship offers from 10 schools including: Central Arkansas University, Northern Illinois University, South Dakota State University, Kansas State University, the University of Kansas, the University of Nebraska, the University of Tulsa, the University of Arkansas, the University of Minnesota and Oklahoma State University.
Applegate chose KSU because of his family ties and his recruiting trips over the summer.
"Kansas State actually didn't recruit me that hard compared to other schools like … I went to go visit all of the schools. I then made a decision based on those visits," Applegate said. "I liked K-State because one of my sisters is going there right now and my family are alumni from there. So it just all fit right and they were one of my top picks with all of those [aspects]."
Since the beginning of his high school football career freshman year, Applegate said head coach Joel Applebee and offensive line coach Rick Pollard have helped him the most develop as an athlete.
"Coach Applebee and coach Pollard have been influential. They have built me up freshman year through senior year," Applegate said. "[They've been] reinforcing me, telling me what to do, and showing me new techniques."
Pollard has observed Applegate's progress as a player and taught him during his time playing high school football.
"I've been able to watch him go from a kid who couldn't maneuver his body to a good athlete who's going to go play Division I football," Pollard said. "It's been really fun to see the transformation."
Pollard offered Applegate guidance in making his decision and taking the next step in his future as an athlete and an adult.
"He came and asked me [what he should do next year] and my talk with everybody is, all I can do is open doors for players, but it's their decision. I'm not going to influence a kid one way or the other … It's his life, he has got to do it. So every decision from this point on is affecting him personally," Pollard said. "[He] needs to have his goals in sight and work towards that goal no matter what it takes."
Applegate looks forward to his future at KSU as an athlete and as a student.
"I hope to get a degree — that's my number one goal," Applegate said. "[I'm most excited about] being a part of the K-State family, playing all four years and hopefully going professional."
(Visited 32 times, 1 visits today)