Senior Emily Brigham breaks KU Relays record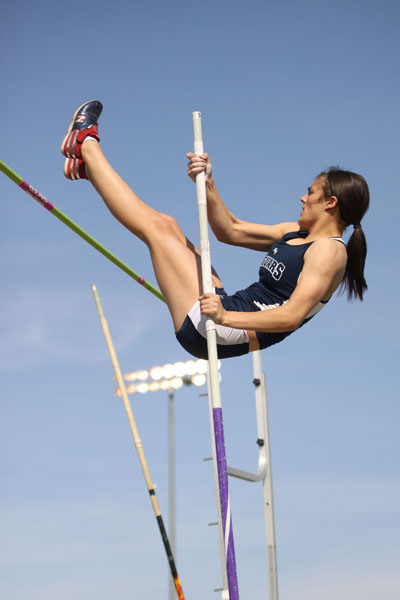 Senior Emily Brigham broke the Kansas University Relays record for pole vaulting with a height of 12'6" on Friday, April 19.
Brigham said that it was one of her goals this season to break the record.
"I came so close last year to breaking the record," Brigham said. "I [had] to try my best to break it this year and I did."
Brigham also said her first place medal meant a lot to her because the Relays will no longer be held at Memorial Stadium.
"[It was the last year] for the Relays to be held at the stadium," Brigham said. "Everyone was happy I broke it, the coaches, my parents. It just made everyone happy."
The other top placers are as follows:
Ben Carroll, boys javeline, 15th place
Maddie Estell, girls triple jump, 9th place
Emily Brigham, girls long jump, 2nd place
Emily Brigham, pole vault, 1st place
(Visited 18 times, 1 visits today)
About the Writer
Alana Flinn, JagWire editor-in-chief
Alana Flinn is a third year staffer who is looking forward to a year full of new experiences. As editor-in-chief, Flinn hopes to finally win a Pacemaker for Mill Valley News while maintaining the quality of JagWire. She will also continue to report on her favorite sport, football. Flinn's favorite quote is: "Every person you meet, every single one, is looking for their story. There are no exceptions. You become part of it by how you treat them." -Anonymous