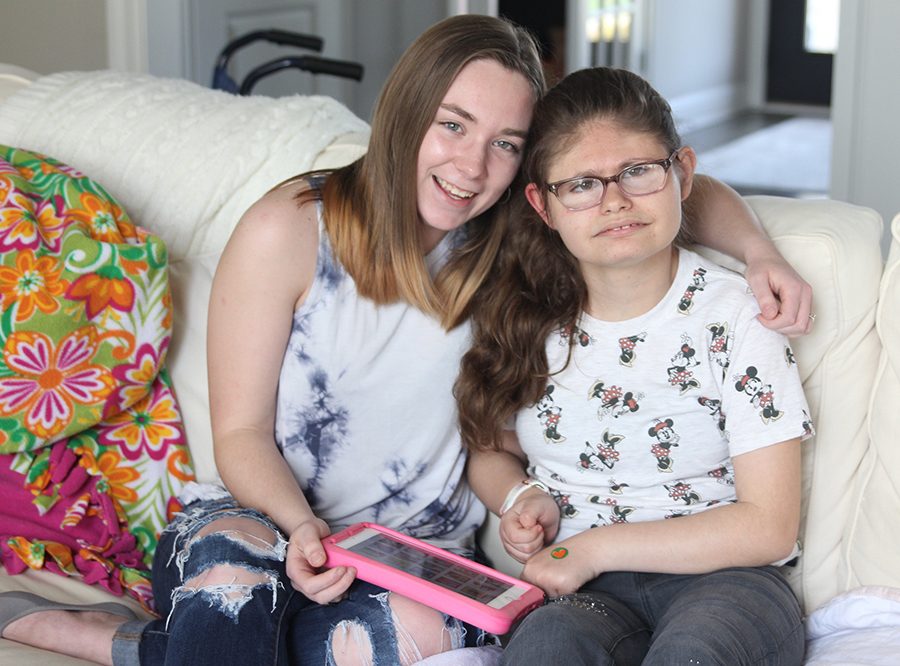 By Lexi Flipse
Senior Dakota Wilson dedicates time after school to working as caregiver for junior Corinne Brown
According to Wilson, the two's relationship has developed into becoming "best friends"
April 25, 2018
After school on a Monday, senior Dakota Wilson heads into junior Corinne Brown's house where she's greeted by Corinne's family, logs in to work on Corinne's dad's phone and starts to help Corinne out of her wheelchair. Wilson picks up Corinne, gives her a hug and settles her on the couch, where she then sits next to her and the two begin watching an episode of "Mickey Mouse Clubhouse." Wilson asks Corinne if her day was "good" or "OK," holding out her hands, and Corinne taps Wilson's left hand, indicating that her day was "OK."
Wilson works as a caregiver for Corinne most days of the week after school from about 3 p.m. to after dinnertime. Corinne is a special needs student: she is nonverbal and communicates through some sign language, cannot walk autonomously and has seizures.
The two met last January in Peers in Learning — a class in which students pair with special needs students — when Wilson was assigned to start helping out with Corinne's everyday schedule. When Corinne's mom, Dianne Brown, first saw them interact at last year's Job Olympics competition, she noticed, "Corinne really took to [Wilson] and she seemed like she knew what she was doing interacting with [Corinne] and how to bring her out of her shell."
So, Wilson began working more closely with Corinne in the summer, where she helped out when Corinne was at school during the summer months. Finally, Wilson officially became a caregiver for Corinne last August.
According to Wilson, the two's schedule is pretty regular; they hang out after school, watch TV, eat a snack and dinner together, go to Panera about twice a week and take different "field trips" to places like Starbucks or Shawnee Mission Park.
Their relationship has evolved past an average caregiver and student relationship, Wilson said.
"I love everything about it, she's pretty much my best friend," Wilson said. "It's not like working, it's just hanging out with my best friend constantly."
Although they spend more time together outside of school, Wilson is with Corinne during her Peers in Learning block. According to Wilson, their relationship in school is different because of their time spent together outside the school building.
"She definitely considers me more of a 'home' person than a 'school' person at this point," Wilson said. "So, she's more serious around me. I'll try not to embarrass her by giving her hugs or anything. I just make a point to say hi to her and go over and talk to her whenever I can."
Paraeducator Cimony Mahoney works closely with Corinne, and sees a difference in the relationship between Wilson and Corinne compared to those between other peers and students.
"I know she spends a lot of time with her at her house so she knows Corinne in a way that we don't really get to know her here at school," Mahoney said. "So when she comes to school she just knows Corinne; she knows the mood she's in, she can tell the things she wants to do, the things she doesn't want to do, things like that."
Mahoney thinks the two's relationship is beneficial since it normalizes their friendship.
"It's just a regular friendship that anybody else would have and so I think that's what's great about it, that someone with special needs you might think is different than everyone else but [is] really not," Mahoney said.
Since they met last year, Dianne said the pair's friendship has developed and Corinne has become much more comfortable around Wilson, which she sees in Corinne's actions.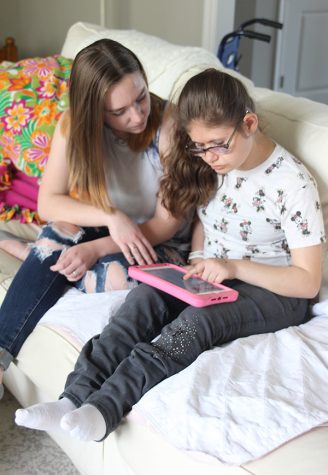 "With Corinne when she really gets to know somebody, she gets sillier and sillier," Dianne said. "Corinne likes to poke and tickle and scratch their back and you can see when she forms a connection with somebody she wants to be very close to them and lean on them. She kind of develops silly games and silly interactions with her favorite people that show that she's friends with them."
However, Wilson's job as a caregiver does sometimes have challenges. Since Corrine is unable to walk by herself, Wilson often picks Corinne up to move her from her wheelchair to other surfaces to sit and sometimes helps her with physical therapy. According to Wilson, this is sometimes strenuous.
"It can be a little bit challenging because we're the same height and we weigh about the same, so it's like picking up a person your size and physically getting them off the ground," Wilson said. "I think it's a little challenging working with someone that's physically the same as you, but can't do anything that you can do."
Although it is sometimes physically difficult, Wilson said that her friendship with Corinne and her work as her caregiver has impacted her life.
"She helps me realize there are way better things that I could be thinking about or worrying about or doing rather than being super down," Wilson said. "She's super light-hearted and she'll bounce back from anything. If we have a really bad seizure day where she has five or six seizures in an hour, she'll be back in 20 minutes cracking up [or] throwing things at me. It's nice to have someone who's always really happy and it makes you feel like you should always be happier for what you have."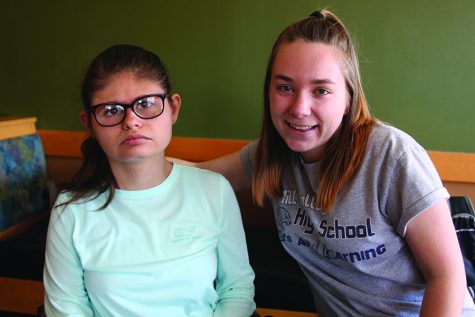 On the other hand, Dianne said their relationship has also positively affected Corinne.
"I don't think Corinne sees her as a caregiver, I think she sees it as after school and on weekends my friend comes and hangs out with me and she takes me to do things that other typical teens do," Dianne said. "One of her favorite things I think is just riding in the front seat with her in her car just like any other teen girl wants to do with her friends. I think it's really special that she gets to have that."
Moreover, their friendship has reached past impacting just the two of them; according to Mahoney, other peers in Peers in Learning view their relationship as an example.
"Dakota just treats her like a friend and other peers can see how they interact and they can kind of follow her lead," Mahoney said. "I think just her being so comfortable with her, so knowledgeable about what she likes to do during the day, what she likes to eat, what she likes to watch, all of her favorites, it's just helpful. Other peers can learn a lot from her."  
"
It's not like working, it's just hanging out with my best friend constantly."
— senior Dakota Wilson
Because of their relationship, Wilson hopes to continue working with special needs kids later in life, and plans to become a special education teacher.
"When I met her in January, after the first month of working with her, I was like OK this is what I want to do for the rest of my life. This is what I need to be doing," Wilson said. "She's helped me realize I really want to work with kids who could possibly need to be using sign language [or] to work with kids who can't do everything by themselves because I think it's super interesting to see that each person is different. She's just taught me so much that I'm going to use in the future; it's always going to be there."
(Visited 42 times, 1 visits today)