Senior Chris Sprenger is the most decorated swimmer in school history
Sprenger holds five individual swim records for MVHS
Since his career began at the age of six, swimming has played a major part of senior Chris Sprenger's life. He currently holds five individual school swim records, and is part of all three relay records for Mill Valley. During the state meet this year, he placed second in the 100-yard breaststroke and the 200-yard individual medley. His time as a Mill Valley swimmer has led him to become the most decorated swimmer in school history. Chris will be attending either the University of Evansville or Saint Louis University next fall to swim at the Division I collegiate level.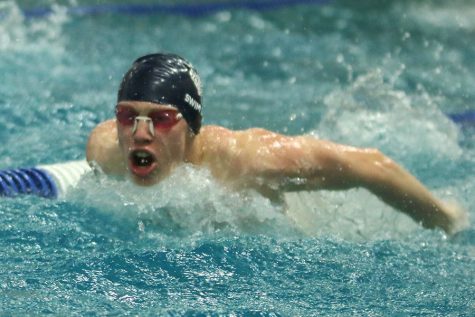 During his sophomore year, Chris began to realize his potential to possible swim at the collegiate level.
"Sophomore year was my breakout season, it was when I made it to my first final and I broke two minutes in the 200 IM for the first time," Chris said. "I owe a lot of the credit to my coaches, they were really supportive in helping me look for colleges and showing me what sort of times and goals I needed to break in order to make it to the collegiate level."
For Sprenger's club teammate junior Kayla Teasley, the opportunity to train with a future Division I athlete is exhilarating.
"He is always there to push you, and it is fun to practice with him because he is fun to compete against," Teasley said. "It is really cool because Chris has improved a lot, and it is fun being able to be able to swim with him and watch his [success]"
While currently swimming about 9,000 to 11,000 yards per practice, Sprenger feels that this will help prepare him for next season.
"At the collegiate level there is far more swimming done than any other level [I've competed at], because you practice twice a day, pretty much every day," Sprenger said. "You get in the weight room and you practice on the weekends as well. In college, the yardage per practice may not be as high, but the number of practices and the intensity will be higher."
According to Sprenger's father, Steve Sprenger, he has had little involvement in Chris' recruitment process.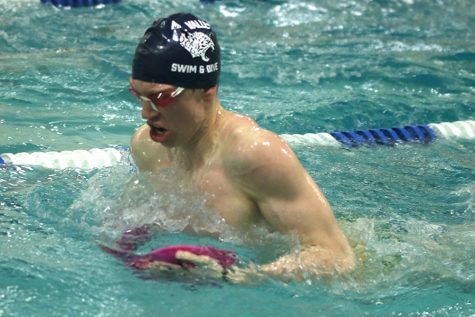 "Chris has [handled recruiting] all on his own," Steve said. "We went and picked him up at his first recruitment visit and we got to see a meet, it was the University of Evansville versus Saint Louis University, and just by watching that, we new that he belonged at that level, and that he could compete at this level with no issues."
Chris' mother, Joia Sprenger, is excited to see the years of dedication pay off for Chris.
"It is really exciting for all of us when he gets those phone calls from the coaches and just knowing that they are showing interest in Christopher," Joia said. "It makes us really proud of him and all of the hard work that he has put in."
(Visited 234 times, 1 visits today)