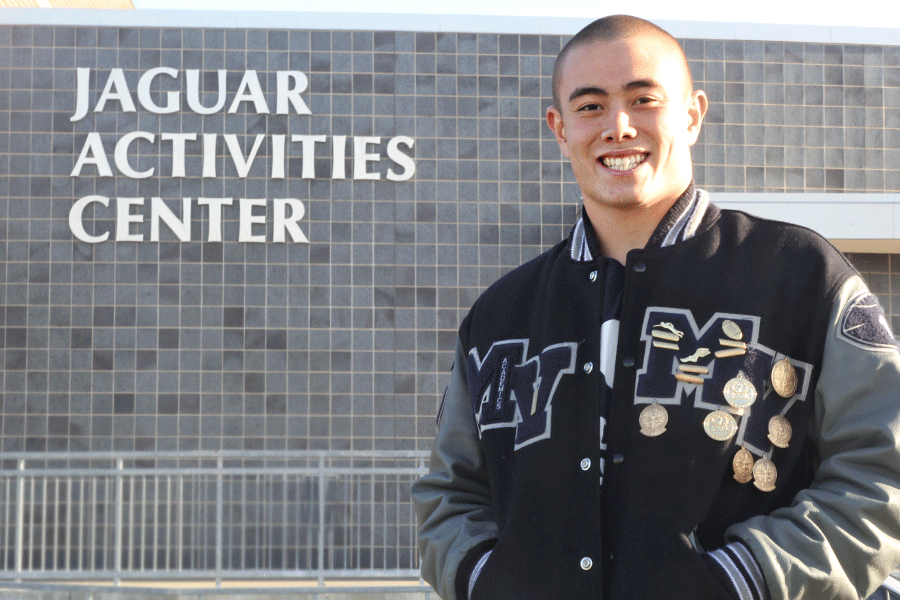 Senior Chase Midyett participates in athletics all year long
Through playing football, swimming and running track and field, Chase juggles both schoolwork and sports
There is a stereotype that tells students as they enter high school that they need to be involved in some club or activity to gain friends and school spirit. Senior Chase Midyett, not only took that advice to heart — he is the current student body president —  but decided to participate in sports not just one season, but all year long. It helped that his older brother, 2014 graduate Henry Midyett, was also heavily involved in athletics and his friends all joined him.
"I really just took after my brother, and a lot of my friends [played sports]," Chase said. "I love hanging out with my friends, and sports is a good way to do that. It's a fun activity to do after school instead of sitting around at home, and I thought that was the best way to get involved."
Usually student athletes focus on one sport in particular, but Chase doesn't prefer one over the other. He happens to be on the football team, swim team and track team. He also has received many accolades, including the 2015 state championship in football, multiple league titles and two state appearances in both swimming and track.
All of that experience and success with his teammates makes Chase love being in athletics. The hard work he's put in plays into his overall enjoyment for each sport as well.
"
It just lets me get out there. I experience a lot more groups of friends, so I'm not just hanging out with my football friends, but also my swim friends and track friends. [Sports] just branch me out into the school and lets me meet more people."
— senior Chase Midyett
"I've been playing [football] since I was a little kid and we just won the state championship this year; that was amazing," Chase said. "I also love a challenge, and swimming is definitely a challenge. It definitely presents a different type of activity for me. And with track, I just love to run."
Being involved in all these sports takes lots of time and effort to stay successful, and Chase makes it a priority to stay in shape year-round.
"It all starts with football. I've been doing football since the end of season last year until now and that really helps me to stay in shape for everything," Chase said. "Then, I also swim on the side and run occasionally. It's not a terrible transition, but the worst one would be the switch from football to swimming because it's so physically demanding on your body."
One thing that helps to motivate Chase through all seasons would be his family, especially his mother, Eleanor Midyett, who always supports him and even helps in his training.
"We try to support him and go to all of the events, so that keeps us kind of busy all year since he plays in three sports," Eleanor said. "We also got a membership to [Lifetime Fitness] so he could swim during the offseason. When we were on vacation in the Outer Banks, the whole family went running in the mornings to get ready [for track season]. Whenever we're on vacation, we try to still encourage working out so that he stays in shape for sports."
Even though the training and workouts take up lots of Chase's free time, it's worth it since he wants to make the most of his time in high school.
"It definitely doesn't give me all the time in the world; I'm always busy. But it's really not too big of a sacrifice," Chase said. "But, if you think about it, high school is just four years of your life, it's not that long. So why not get involved while you're here?"
Eleanor commends Chase for his ability to manage his time well and his determination and perseverance to succeed in athletic endeavors.
"He never gives up and he sets a high standard for himself," Eleanor said. "I'm proud that he's really hard on himself, but he never gets down and always keeps working."
Through it all, Chase just enjoys being with his teammates who he has grown with over the years.
"[I enjoy] having a good time with my friends … because I will remember them forever," Chase said. "I also love to compete, always have. That's why I do every single thing that I do."
Chase has invested years of his life into succeeding on the football field, in the pool and on the track. After completing his final football season, and as he enters his final seasons of swimming and track, he cherishes the memories he made with his friends in high school through his time in athletics.
"It just lets me get out there," Chase said. "I experience a lot more groups of friends, so I'm not just hanging out with my football friends, but also my swim friends and track friends. [Sports] just branch me out into the school and lets me meet more people."
(Visited 61 times, 1 visits today)