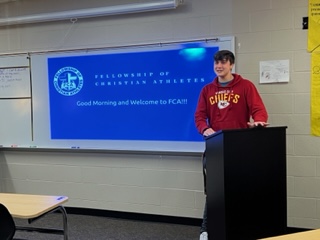 By Maddy Welch
Senior Bryce Jennings leads religiously through FCA
Jennings also leads at Lenexa Baptist Church as well as in the community
Fellowship of Christian Athletes, better known as FCA, is a student-run club. This club provides a place for athletes, or anyone, to get closer to God and their classmates.
Senior Bryce Jennings, stepped into a leadership position for FCA, after realizing the differences he wanted to see from last year's leadership and how the club was run.
"So at the start of the school year, I realized that the FCA that we had the year before, was very inactive," Jennings said. "There wasn't really a leader or a sponsor even for FCA and so I decided to lead it because I wanted to make a difference. I wanted there to be a place for students of Christian belief to come together."
After taking over the club, Jennings believes the best part of being in a leadership role is seeing everything go according to plan and making people happy.
"It's interesting when you see it come together in real life," Jennings said. "When you see people attending, you see people having fun, see people being filled spiritually and making connections and enjoying themselves."
Jennings has tried to implement some stricter meeting dates and has also started helping out with the FCA organization at Monticello Trails Middle School. 
"I believe that I've helped the club have a little bit more structure and a little bit more involvement at the school," Jennings said. "I've definitely tried to inspire and teach some of the underclassmen and middle schoolers and make a big difference."
In addition to leading FCA, Jennings also volunteers at his church. He serves his congregation in many ways from concessions to leading Sunday school for elementary school kids. 
"I help with the children's ministry," Jennings said. "My church also has an Upward program, which is a basketball program and I help with concessions with that. It's a lot of fun."
While Jennings loves his leadership role, he admits there are some challenges that come along with it such as the pressure he is under to plan lessons. 
"I think I've definitely put a lot of pressure on myself to make sure that the content is good and that it's Christ-centered and Christ-focused," Jennings said. "I put a lot of pressure on myself to do the work that's involved."
The club has a bright future and it has started to look up after the COVID-19 pandemic stopped the club completely. 
"I think this year has been fantastic. We've seen some really good numbers at our meetings," Jennings said. "I think a lot of people really enjoy the club. I think it's a lot better than previous years because FCA was affected because of COVID."
Even though there have been challenges along the way, Jennings always tries to prioritize people's voices and make sure everyone feels heard. 
"I'd say my leadership style is [along the lines of] 'everyone has a voice, everyone has a say'," Jennings said. "We have a leadership team of about five people and I like to think everyone has some input into the group, what the group looks like and what the meetings look like."
(Visited 25 times, 1 visits today)
Mill Valley News intends for this area to be used to foster healthy, thought-provoking discussion. Comments are expected to adhere to our standards and to be respectful and constructive. As such, we do not permit the use of profanity, foul language, personal attacks, or the use of language that might be interpreted as libelous. Comments are reviewed and must be approved by a moderator to ensure that they meet these standards. Mill Valley News does not allow anonymous comments, and Mill Valley News requires a valid email address. The email address will not be displayed but will be used to confirm your comments.