Senior athlete contributes to two fall sports
Senior Ryan Wingerd balances being the captain of the soccer team and the kicker for the football team
Going straight from one sport to another every day is not an average routine most athletes go through. Senior Ryan Wingerd is one of a few students who has taken on the challenge of competing as a dual-sport athlete in soccer and football.
Wingerd has been playing soccer for about 13 years. He plays forward and is the second leading goal scorer for the team. He has no prior experience playing football. Wingerd and the varsity football coach, Joel Apple- bee, discussed a potential kicker spot on the football team. Wingerd took on the position and is the starting kicker for the football team and the captain on the varsity soccer team.
Dual sport athletes are often challenged with managing school work on top of multiple practices and games they attend weekly. Wingerd holds himself accountable to get his school work done while participating in both sports.
"It's hard, you have to be prepared for it, and you have to get your work done," Wingerd said. "I try to get assignments done as quick as possible."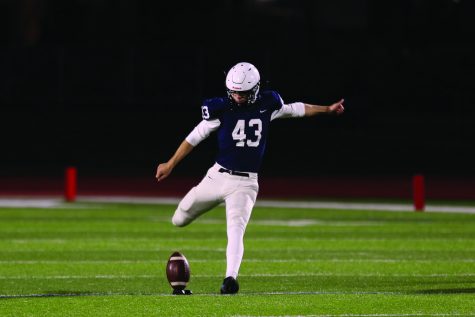 Wingerd has a busy, time consuming schedule. His day begins at 6 am with Zero Hour for football. After school he goes to soccer practice from 3:15-5 pm. From soccer practice he goes straight to football practice until 6:30 pm. Then it all starts again the following day.
While football and soccer may seem to be quite different, from Wingerd's perspective as a kicker, the two sports are more similar than different.
"For football, I kick the ball as hard as I can. It's a little different for soccer because you can't kick it over the goal. It's different but not much," said Wingerd.
Head soccer coach Jason Pendleton sees many rewarding parts to receiving the opportunity to participate in two high school sports at the same time.
"I think when you participate in two sports at the same time you have greater depth of high school experience," Pendleton said. "[Wingerd] is getting to experience playing soccer with his friends and something he is passionate about, but also now con- tributing to the best football program in the state."
Communication between coaches has helped avoid confusion and cre- ate a more successful atmosphere for Wingerd.
"Coach Applebee and I discussed [Wingerd] and what the plan would be and which sport would be the priority if there was a conflict, so both coaches have to be on the same page, and I think that's the critical part," Pendleton said.
According to Applebee, Wingerd's hard work and determination has helped him manage being a dual sport athlete.
"There's a lot of work that goes into it, I mean just managing the time and Ryan does a great job of that, so that's made it really, really easy be- cause he's done a really good job," Applebee said.
(Visited 123 times, 1 visits today)