Senior Ally Garton volunteers at animal shelter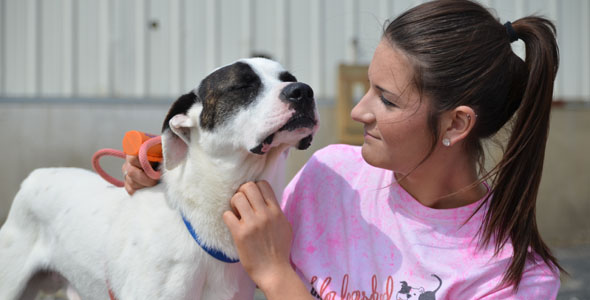 Walking into Unleashed Pet Rescue and Adoption on Saturday, April 6, senior Ally Garton comforts a skittish puppy named Cupcake. Garton does community service at the shelter weekly.
Garton began volunteering at the shelter because of her dog, Captain. She adopted Captain from Unleashed last June. Captain suffered from Parvo, a bacterial disease usually found in a dog's stomach that can be deadly. The shelter sent him to a veterinarian hours away to treat him.
"Considering we are such a small organization, that just shows how much they care," Garton said. "I just thought that was really touching. I love my dog to death. I figure if I can give somebody else what my dog gives me then that's really awesome."
Garton goes to the shelter to volunteer 2-3 times a week, and depending on whether there is an adoption event going on, she sometimes goes during the weekend.
On Mondays, the shelter is not open so Garton does lots of kennel cleaning and laundry. She also walks the dogs, washes the dishes, feeds the cats and helps out with adoption events. In addition, Garton holds dogs when they get shots and transports dogs to and from different shelters.
Garton's favorite thing about volunteering at the shelter is when new dogs are brought in from Animal Control or from another pound, and seeing the transformation they go through once they get positive human affection.
"It's awesome to see how a dog has been through so much and especially through humans," Garton said. "A dog that has been neglected so much and hurt so much can still have hope and love us. I think that's something humans have a really hard time doing so I just think it's awesome that they can do that."
The difficult days at the shelter are the days when dogs get returned for senseless reasons.
"[My least favorite days are when people bring a dog back saying] that they cry a lot or they are sick," Garton said. "To me that's the equivalent to taking a baby home from the hospital and bringing it back saying, 'Well, it cries.' Yeah, it's a baby, it'll do that. Or, 'The baby is sick.' You offered to take care of it, you take him to the doctor and make him better. I think those are just pointless reasons."
The Gartons also foster dogs at their home, taking care of them as one of their own until they are at a more adoptable state. Since September 2012, they have taken in four dogs, including a pregnant one that later gave birth to five puppies.
Two dogs fostered by the Gartons last September were Jack and Jill, a pair of Beagle mixes found in a box on the side of a street downtown.
"Jill was older and definitely in charge of everything," Garton said. "She was so sassy and she reminded me of myself, which is probably why I liked her so much."
Volunteering makes Garton grateful for all that she has.
"Even though it's not a homeless person that is living with me, there are still people and things out there that go through a lot more than I do," Garton said.  "So God forbid I have a lot of homework; at least I'm not starving  [and] tied to a tree. It just really puts things into perspective."
While Garton is attending college in Oklahoma, her parents will continue to foster dogs. She plans to visit the shelter on weekends when she comes home.
"Not only am I attached to the animals there but I'm also attached to the people [at Unleashed]," Garton said. "A lot of them are not near my age range and we have nothing in common at all, but we are all constantly there and we are all fighting for the same cause."
(Visited 73 times, 1 visits today)