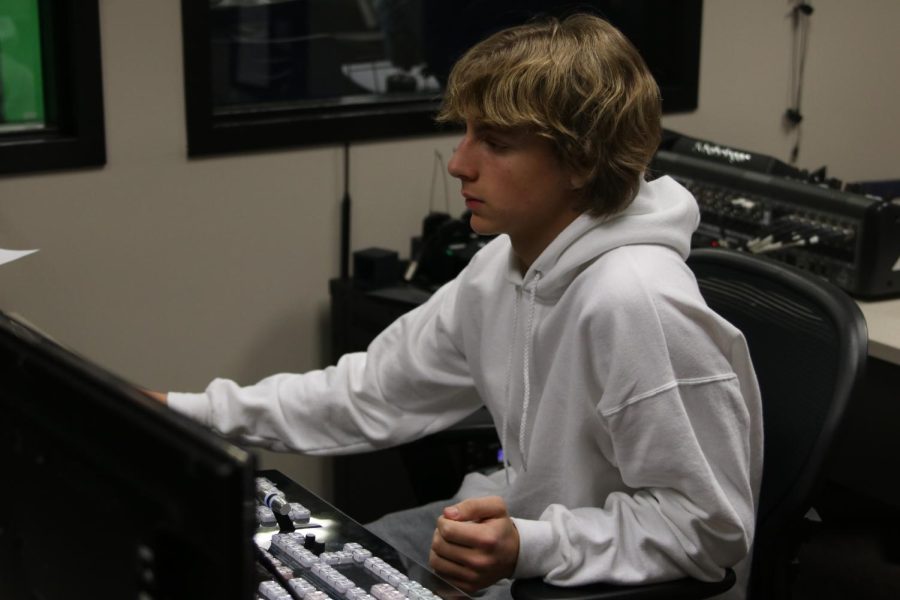 Senior Alex Shank plays an essential on the MVTV staff as one of the senior producers
Shank is heavily involved in every step of the MVTV production
Every Thursday in seminar, students gather to watch a new episode of MVTV. Whether it be a blindfolded taste test or information on the school's newest club, the MVTV staff undoubtedly works hard to achieve the quality of their content. Senior Alex Shank, one of the MVTV senior producers, plays a huge role in this.
As one of the producers of MVTV, Shank has been on the staff for three years.
"I was chosen sophomore year after a year of showing my capabilities, and then after interviews with the producers and teacher at the time, I was selected," Shank said.
Shank got involved with MVTV and strived for a leadership role because of his longtime love of video production. 
"I always loved making videos as a kid and MVTV gave me the perfect opportunity to continue doing so," Shank said. 
According to broadcast teacher and MVTV advisor Laurie Folsom, Shank is vital to the MVTV staff. He helps create and manage all aspects of the finished video watched during seminar. Whether it is making assignments or pushing the live broadcast out to seminars, Shank is involved. 
"Alex does everything," Folsom said. "Alex manages everything about it. From assigning stories, to the actual live streaming, and pushing it out to seminars."
Shank's leadership role also comes with many daily responsibilities. On top of managing the video, Shank is also expected to be there for members of the staff and answer any questions they may have. 
"I basically assign every reporter to a package," Shank said. "[I] am there for them to develop the idea and plan for the package, make sure they're on the right track, then check over their packages and give them critiques and answers for anyone who has questions." 
Additionally, Folsom highlights Shank's work ethic and dedication to MVTV. 
"He had high standards," said Folsom. "I asked him what goals he had for this year's MVTV staff and program and he said he wanted us to be the best in the KC metro area."
Fellow MVTV producer senior Sophia Chang emphasizes Shank's leadership and ability to create a bond with the other staff members. 
"I think Alex's best quality as a leader is his ability to interact with other students," Chang said. "They trust him and hold value in his words."
(Visited 11 times, 1 visits today)